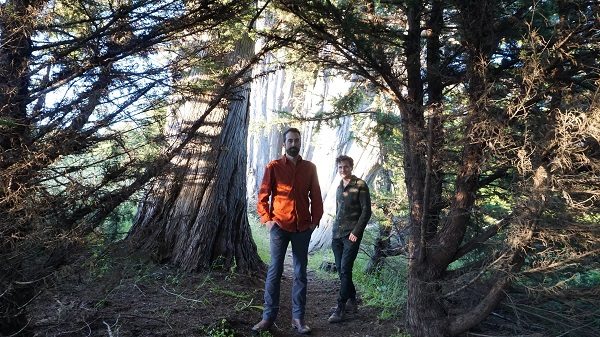 Today marks the release of FEVRMOON's self-titled album, an accomplishment in varied soundscapes and stirring melodies from the duo of vocalist Jon Weston and producer Anton Patzner. FEVRMOON previously impressed with tracks "The Work" and "Mountain of Dreams", and continue to show powerful range here. Drizzling rain and sparse piano accompanies tranquil vocals to start, reflecting a gently building summer breeze. The hi-hats signal the entry of strings and stirring vocal escalation, reminding of FEVRMOON's convincing ability to craft gripping build-ups and then collapsing again, cohesively. "Summer Rain" is a gripping track from an album full of them.
Patzner elaborates on the origins of "Summer Rain" below:
"This was the first song that we did and the song that launched our whole project. I had just gotten into making electronic pop and this was at the time the best beat I had made yet, but I didn't know who was going to sing on it. Jon happened to be at my house one day and I remembered having heard him sing once at a concert he had put on in his parents living room years before, so I asked him to give it a shot. I always thought he had a cool voice and wondered why he didn't do more with it, but I had no idea how special it really was. After he did the first take I was just amazed. It was like magic to me. We ended up writing and tracking all of the vocals in a few hours and I was so stoked. He had this earthiness that I thought contrasted really well with the electronic elements. After we were done I probably listened to this song 100 times. I asked him if he'd want to do more, and we ended up making a whole album!"
Stream the album below:
—
"Summer Rain" and other memorable tracks from this month can also be streamed on the updating Obscure Sound's 'Best of July 2019' Spotify playlist.