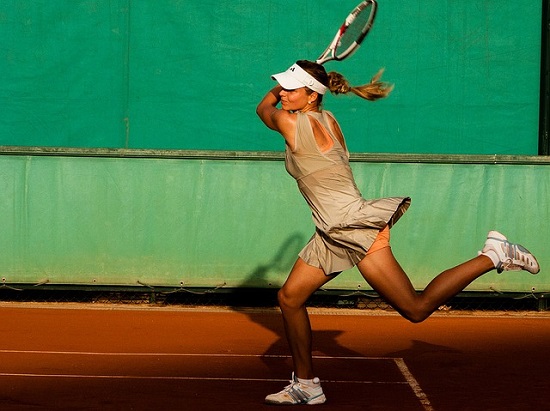 Music constitutes an integral part of all the women's tennis players' daily life. It comes into play all the more when they're in desperate need of some motivation and inspiration. If you observe them closely, almost all of them have their headphones on while travelling, and during their warmup and training routines as well. Not just that, even a few minutes leading up to the start of an important tennis match!
There are some women's tennis players, for instance, Serena Williams, who have shared in the past that they can't get a song out of their head even while playing an important match on the court. Talking about Serena, she recently got a good thrashing from Simona Halep in the Wimbledon finals, which she lost 2-6 2-6. Simona became the first-ever Romanian to win the Wimbledon title. Many people who are fond of betting on tennis had actually backed Serena Williams to make easy work of the Romanian, but the tables got turned on the centre court. To put things into perspective, before the match, Simona was going at the odds of 2.7, while Serena was being offered at 1.5, by the majority of bookmakers. Let's now tell you a bit more about the favorite workout music of the well-known WTA stars, and begin with the obvious:
Serena Williams
Serena normally listens to Irene Cara's 'Flashdance….What a Feeling' before heading out to play a match on the tennis court. She once told the press during a news conference that she is always singing a song in her head before walking out to the court, and it's 'Flashdance' most of the times. Although she finds it super random, but she is fond of its lyrics. Serena further expressed that she finds the song's lyrics pretty intense and empowering. She also regularly listens to Kelly Clarkson and Pink during her workouts. Her fans might be thinking what if she was allowed to listen to one of those inspiring numbers during that lost Wimbledon final to Simona Halep.
Caroline Wozniacki
Caroline told a women's health magazine once that there are many days when she doesn't feel quite as motivated as she likes to be. It is at such times that the Australian open champion turns to Justin Bieber, Taylor Swift, Calvin Harris and Rihanna, to get her into the right mood. Many a times she just needs the right boost to do bigger and more intense things. On other occasions, she likes to listen to something slower, when she just wants to calm down and lay low.
Victoria Azarenka
Victoria regularly dances to music in order to maintain her amazing fitness levels. In an interview to a fitness magazine she had stated that she loves to indulge in dancelike exercises which allow her to put on some music and have some fun. The Belarusian tennis star is also known to sometimes break into a song while playing on the tennis court. She herself has admitted that she sings a lot during her matches as she has all kinds of lyrics and songs in her head. More often than not, it is some number of Rihanna.