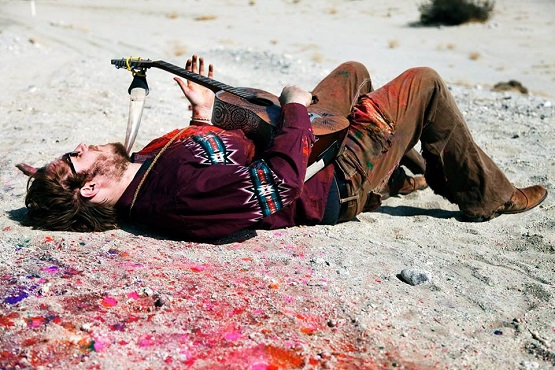 "Ordinary God" is a strongly melodic track off Carey Alexander's new album Not With Monsters. The effort is a shining example of the artist's ability to build up bright melodies with spine-chilling, anthemic appeal — akin to Destroyer. In particular, "Ordinary God" rides initially on piano and chipper vocals, with ominous backing vocals — reminiscent of Timber Timbre — emerging shortly thereafter. The "show me your love," hook — complete with organs, strings, and claps — succeeds immensely, as does the final minute or so, when a rousing assortment of orchestral effects and stirring vocal segments solidify the track as one that tempts repeat listen.
One of the track's central lyrics is: "The Big Bad Wolf, he swallows wool because, just because."
Carey says the following of that line: "To me, this line best summarizes what I was going for with this song. Between the religious imagery and the #MeToo predatory language, I was trying to capture the idea that evil is evil because it's evil because it's evil. That pure evil is a horror can't be psychoanalyzed or treated, that it exists just because evil exists on the spectrum of morality."
More tidbits on the album Not With Monsters — in Carey's words:
– This album took six years to make and was recorded in a home-built studio. Most of these projects were HUGE. "Mr. Junkyard Man" had like 100 guitar/banjo tracks alone, probably 300 total. "Mr. Junkyard Man" also features unlikely world instruments like the guzheng, which rarely find a way into Western pop music.

– The entire album was inspired by a single line from Friedrich Nietzsche, "Battle not with monsters, unless ye become a monster, and if you stare into the abyss, the abyss stares back into you." The album title Not With Monsters is embedded within that quote. The concept that I wanted to explore is that the valiant effort of fighting evil has this tendency to make monsters of good men. It's the idea that the true wickedness is a sort of grime that stains you as you remove it.

– The album is structured to prove Nietzsche correct and details a descent into immorality. The happiest, brightest and most optimistic songs come at the top of the album, while the back half has a less reliable narrator and is focused on things like the banality of evil, machiavellism and succumbing to vices.
—
"Ordinary God" and other memorable tracks from this month can also be streamed on the updating Obscure Sound's 'Best of September 2019' Spotify playlist.