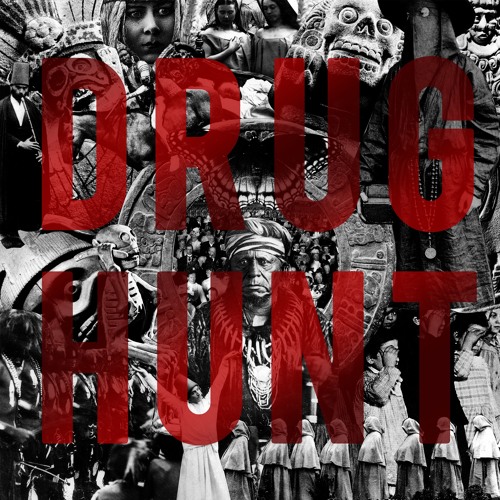 Today, San Diego act Drug Hunt released the track "The Blood," a gripping rocker aided by climactic vocals and rousing organs. "The Blood" comes via the band's forthcoming self-titled EP, which also includes previously featured track "The Tower." Drug Hunt continue to impress here. An eerie guitar lead kicks things off, fading away as a steady bass accompanies the suave vocal emergence around 30 seconds in. The "I found my way," cue shortly thereafter sees the re-emergence of menacing guitars, sliding cohesively into the blistering additional guitar tone at 01:08. The track assumes a bouncier fervor around the three-minute mark, with scorching guitars headlining.
The band elaborates on the track's background and themes:
"The Blood" is a song that examines humanity's beliefs in Creation and divine intervention. It's a song that journeys to the source of religious and spiritual ideologies in an attempt to decipher them. Since their youth, the principals of Drug Hunt make such journeys: they've traveled from the Native American reservations of the Four Corners region in the U.S., to the Mayan tribal lands in Rory Morison's hometown of Chiapas, Mexico. They've researched ancient religions, participated in sacred ceremonies, and practiced eastern methods of enlightenment through yoga and meditation. "The Blood" is rooted in a reflection of this immersion.

Whether through spiritual or religious practices, humans have always ventured to inner and outer realms to commune with gods. "They are in many ways our stage directors, we ask (gods) for guidance and pray for their assistance during our trials and tribulations," describes Rory Morison. "Gods can be animistic, menacing, ephemeral, tricksters, and all-loving beings, but in almost all cases we are their actors, and for millennia they have defined our roles and the meaning of our existence." "The Blood" is challenging the heavenly realm as much as it is questioning how we situate ourselves within the universe, as illustrated by the lyrical passage: "They watch from hilltops / overseeing the shadows that they cast / traversing symbols / oh how they love to watch us dance." We are the shadows these gods cast; they are the remnants of our imagination passed down through generations. This song recognizes that we created our creators and have assembled them in our image to give meaning to our lives and the thereafter.
—
"The Blood" and other memorable tracks from this month can also be streamed on the updating Obscure Sound's 'Best of September 2019' Spotify playlist.