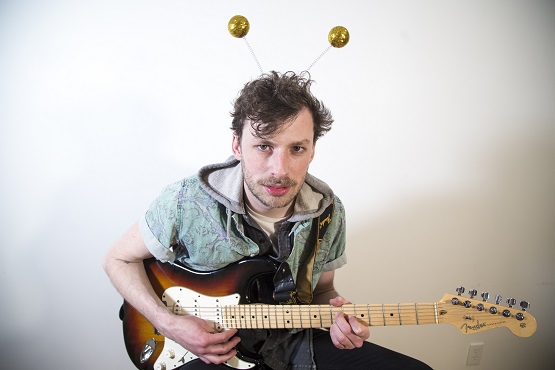 Echoing a hypnotic, layered psych-pop sound reminiscent of Animal Collective, "Wiffle" is a newly released track from King Bug, the solo project of Eddie Kuspiel (also of Brooklyn-based projects Color Tongue and QWAM). The track comes via the Pierpont EP. Bubbling synths and cricket chirps conjure a jungle-set, lush soundscape from the get-go. Soaring, good vibe-y vocals emerge as synth bloops and hypnotic percussion continue building. "Wiffle" is a nice showcase of what to expect in terms of psych-friendly production throughout this engaging EP.
Kuspiel elaborates on the story behind "Wiffle" and the EP:
When I was little, during the Summers my next-door-neighbor and I used to go around in our yards and hit lightning bugs as hard as we could with wiffle ball bats. They would explode into these really beautiful neon green fireworks and go all over the vines on the fence of our yard. We'd rub it on our hands and faces. Her and I would try to hunt this huge beetle that made this revving sound that we dubbed big bertha, I don't know if we ever caught it. I feel really bad about making all those lightning bugs explode now…but we weren't doing it to be mean, we were doing it because we thought it was beautiful. This song is pretty much about that and a few other things.

Like every track on this record, I did it in my room. I tried to use as little guitar on this record as I could, It's only on two tracks for a few seconds I think, 'Wiffle' being one of them. The album is mostly just synthesizers and samples. I remember this one coming together pretty quickly. The whole record actually came together pretty quickly it just took a long time to try to get everything clean to be presentable enough for someone to listen to.
Stream the Pierpont EP below:
—
"Wiffle" and other memorable tracks from this month can also be streamed on the updating Obscure Sound's 'Best of September 2019' Spotify playlist.