Ralph Rodolen – "Coriahosanota"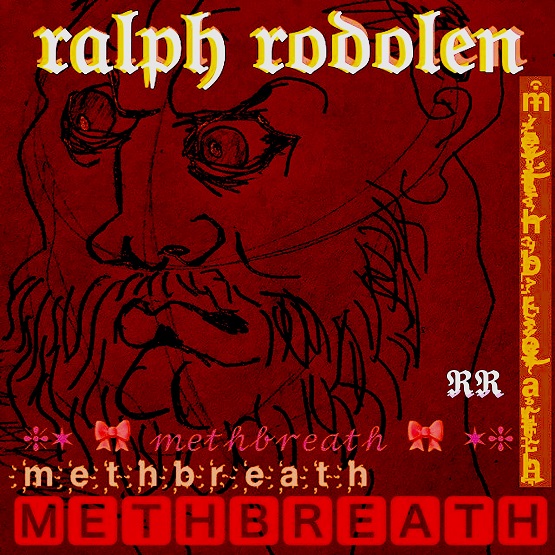 "A Room in the Mirror" from Ralph Rodolen remains one of the more strikingly effective tracks I've heard this year. As such, I'm excited that the Norway-based artist released his new album today. Methbreath spans ten tracks, encompassing a range of tones. "Perfume & Memory" is among the more effervescent, accessible pop efforts — glistening with a melodic shine. Also present is the artist's ability to craft darkly gripping soundscapes, as was evident on "A Room in the Mirror."
Sure enough, album opener "Coriahosanota" explores similar atmospheric territory. Panting vocal effects and woodwind-forward sampling emerges amidst developing cavernous electronic effects, with rhythm and a funk bass kicking in just before the one-minute mark. The halted vocal effects throughout are melodically infectious, retaining a melodically addictive spirit while treading in tonally dark territory. It's a great opener to a fully recommended album.
Ralph Rodolen started crafting electronic music early 2018. Prior to that, he sung and played guitar in two rock-bands. As one of thoes bands started to fade away, Ralph started to get interested in DAWs (digital audio workstations).
"One of those bands we called Methbreath (which is the name of this album), and we moved to London for a year to basically become rock stars," Ralph said. "It failed really hard, but it was a lot of fun as 22-year-olds. That was 7 years ago. So that name is nostalgic for me."
"Before I downloaded my DAW and started electronic music production, I mostly listened to hard hitting rock," he continues. "Then I found vaporwave and futurefunk. When I now think of it; all these songs are a blend of before and after I discovered vaporwave/futurefunk. The guitar and bass is always close by when making music."
Stream the album on Spotify. The album was released via Ryan Celsius Sounds, a new label on Spotify.
—
"Coriahosanota" and other memorable tracks from this month can also be streamed on the updating Obscure Sound's 'Best of September 2019' Spotify playlist.