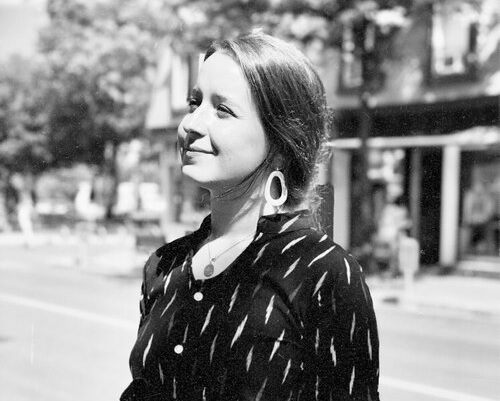 "Did I Mention" is a spacey, effervescent new track from Reine, a British-French artist currently residing in Montreal. This dreamy pop success is the first single from the artist's debut public release Eden, an EP of five songs releasing on 12/6. "Did I Mention" sparkles with backing keys and lush vocals, with twangy guitars and snap-laden percussion leading a vocal hook just past the 30-second mark. The remainder of the track is equally enchanting, leading to a wordless vocal backing at 02:27 that sends chills; this is a consuming conclusion. I'm looking forward to hearing more from Reine via the Eden EP on Friday.
Reine elaborates more on the track and upcoming EP below:
The song, along with the rest of the EP was written by myself and produced with Emmett McCleary whom I'd met at McGill University in 2016. We produced it long distance as Emmett had moved back to Boston by the time we started working on this project, while I'm still based in Montreal. I'd record keys, synths and do the vocal arrangements, send it over to him and he'd play around with some of the synth sounds and add bass and drums. From there it'd be a back-and-forth trying to get it all to fit right.

Narratively the song isn't entirely autobiographical, it comes mostly from having observed the women in my life take on responsibilities that weren't set-up to give them anything in return. I suppose so much of motherhood and womanhood has historically involved that kind of sacrifice, and there is tremendous beauty and value in devoting yourself to nurturing others, but it can become really quite self-erasing in time if the effort stops being recognised. I wrote the song with some of my friends in mind who I'd witnessed offering themselves wholeheartedly to lukewarm relationships that seemed to meet them with such tepidness, something I could empathise with from my own experience. The inter-generational connection between mother and daughter is also something I wanted to touch on. I'm often told I look a lot like my mother, just as she'd been told how much she looked like hers. I often see some of their facial features in my own when I get ready in the morning. This has me reflecting on certain choices they've made, sometimes out of obligation, and I think about what I would want to do differently.
—
"Did I Mention" and other memorable tracks from this month can also be streamed on the updating Obscure Sound's 'Best of December 2019' Spotify playlist.