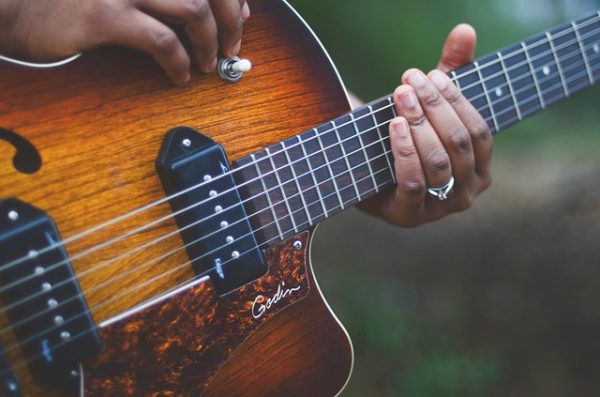 Music as an art form has seen its share of revolutions. 
We're not talking about changes from Big Band to Swing or pop music to metal but of the seismic shifts that completely changed how music is made. 
There was the evolution from acoustic to electric instruments – notably the guitar but also other stringed instruments. 
More recently, through advances in technology, musicians may compose and play entire songs, scores and albums using no musical instruments whatsoever, only a computer loaded with Digital Audio software.
While those musicians' composing prowess is not in question, the debate continues over whether 'real' musicians draw on algorithms to write and play music or use and actual musical instrument and build guitar calluses. 
There is nothing wrong with making music on a computer but, for those of us who love the warm feel of wood against our bodies, there is a savage glee in knowing that more budding musicians seek out guitar lessons than computer music lessons.
If you are an old hand at the guitar, you too might take pleasure in teaching the next generation of players. Here's how you can become a guitar teacher.   
Get Your Name Out There
The best way to find guitar students is to let them come to you… but they have to know where you are. 
Posting fliers in your local stores, libraries and community centers is a great way to let people know you're available to teach them how to play the guitar.
Host Workshops and Seminars
Unless you're relatively famous for guitar playing around town, prospective students won't know how well you can play or the breadth of your technical knowledge. 
Hosting workshops on how to change strings and tune your guitar would be a great introduction to your skill and knowledge of your instrument. 
Plan for Festival Season
Spring is right around the corner for the Northern Hemisphere; soon the time for festivals will be upon us. 
If you were looking for an opportunity to let people hear you play, a few festivals will do the trick.
Don't forget to bring fliers advertising your guitar lessons so people know how to contact you to schedule their first lesson.
Don't Forget to Plan Your Lessons
Even before you land your first client, you have to have some idea of how you will teach students to play, what age/level students you would like to teach – beginner, intermediate and/or advanced, and which types of guitar you will teach on. 
You should already have a planner to enter your scheduled lessons in, a ledger to keep track of the financial side of teaching and a place to conduct your lessons.    
Talk with Local Music Stores
If your clients want you to come to their house for lessons, you're golden but if you don't have a suitable place to give guitar lessons, your local music stores may be able to help out. 
Often, they have a few rooms set aside for teachers in the same boat as you; if not, they might be able to recommend places where you might be able to set up. 
Making the transition from frontman to teacher is bittersweet. However, if you do it right, you'll probably enjoy more sweet than bitter. 
Good Luck!