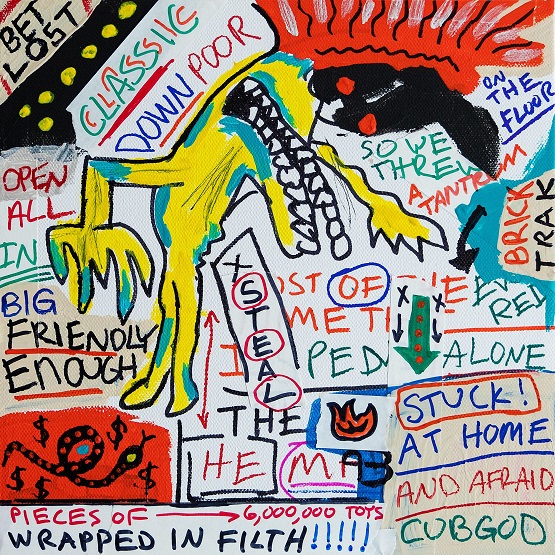 Releasing today, "So Icky" is an exhilarating hip-hop display from Los Angeles-based artist Cubgod. Aesthetically reminiscent of Death Grips, the track's initial vocals are joined by a crunchy backing distortion. The "this sounds so tight," hook adds a spacey synth-laden eeriness to the infectious melodic flow. There's a hypnotizing effect induced by the chorus, which develops seamlessly from the more nonchalant tone in the verses.
The project of Aaron Silverstein, Cubgod will be releasing an album, Spooky Action, in the coming months, including "So Icky." More info on the track and album below from Silverstein:
Written and recorded in two days, "So Icky" represents the most selfish leg of any journey from one state of mind to the next — the part where you consciously decide to only think about yourself. You say to yourself "if I just focus on my situation, how great I think I am, and If I repeat over and over again 'this sounds so tight,' I can convince myself that the world isn't so scary, I don't suck, I won't die, and people like me." It's self hypnotism at it's most dangerous – willfully ignoring everything else and believing that'll make the problems go away.

"To me, all of that feels like someone who's a jet-engine about to explode," Silverstein says. "So the world's most disgusting, buzzing bass was all I needed to find the soul of this track. I write all of my music analog first (on guitar, piano, or drums) then transcribe into a beat. So when I live-drummed to the bassline I kept repeating this drumroll which felt like a flashy introduction to a new idea with every new bar. In the end, I kept it and "So Icky" was born.

Forthcoming album 'Spooky Action' follows one person's journey from Apathy to Sympathy, from not caring to wanting to fix The Problem and every emotion in-between. The album was written, performed, recorded, mixed, and mastered by Aaron Silverstein (Cubgod) in his garage over the span of 8 months.
—
"So Icky" and other memorable tracks from this month can also be streamed on the updating Obscure Sound's 'Best of April 2020' Spotify playlist.
The track is also featured in the genre-based, best-of Spotify compilation Emerging Hip-Hop.