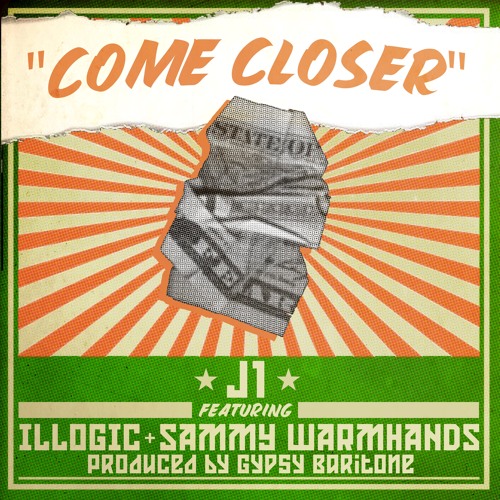 A hard-hitting vocal flow and consuming lyricism stand out on "Come Closer," a gripping new track from J1, a rising hip-hop artist out of San Luis Obispo, California. This track, produced by Gypsy Baritone, features J1 alongside artists Illogic and Sammy Warmhands. Clanging organs and unfolding percussion accompany the first verses, with scrubbing kick-starting a hook shortly thereafter before the next vocal lead emerges. 02:14 — "stacks on stacks," — sees a melodic shift into murkier, more forceful territory that consumes into the conclusion.
The track premiered early today on Ghettoblaster, who J1 told the following about the track:
"It's about addressing the oppressive components within society, and possibly how to transcend them. Originally I proposed writing a song from the perspective of children who had grown up in a society that had enslaved and exploited them their whole lives, and now as grown men what they had to say about it all. I was inspired by the fact that I have spent two decades in activist type work, trying to educate and encourage people to stand up in their communities and work together to achieve something more than the scraps of a failed system. Honestly, I tried to imagine what my three-year-old son would grow up seeing in his lifetime, and speak on it somehow."
—
"Come Closer" and other memorable tracks from this month can also be streamed on the updating Obscure Sound's 'Best of June 2020' Spotify playlist.
The track is also featured in the genre-based, best-of Spotify compilation Emerging Hip-Hop.