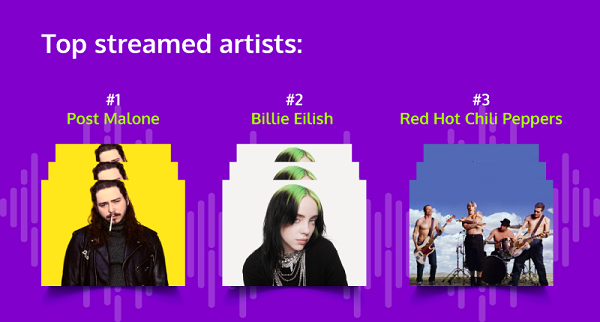 No one likes to commute. Yea, you can meet new people or see old acquaintances again, but overall, the commuting journey is tedious and time-consuming. No wonder we all like to pass that time as fast as possible.
However, what if you could enjoy commuting, rather than having to wait for it to end? How? Well, with a great commuting playlist! For example, did you know that researchers from McGill University discovered that your levels of dopamine — a hormone responsible for feelings of pleasure and motivation — increases by 10% when you listen to music you like?
So, if you want to have a great time while traveling from and to work, have a go at our curated list of best commuting songs!
Post Malone — "Circles"
Post Malone's single "Circles" came during last year's summer and was an immediate hit. Just like his "Goodbyes" single — which the audience accepted well and was nominated for Song of Summer 2019 — "Circles" takes a bit softer approach. Although it still belongs to the Trap genre, this hit almost doesn't sound like Post Malone. Confusing, we know.
Post Malone took a softer approach with "Classic," without any of that Trap grit people know him for. We likely couldn't pick it as his song if it were playing on the radio. Although we would still enjoy the song.
As a matter of fact, "Classic" is beyond catchy. So much it won't leave your ear as you leave the bus. The song is brimming with relatable lyrics about disappearing love, relationships that don't last, and pleas for someone to do anything. "Classic" starts with a melodic acoustic guitar rift and it gradually adds different nuances. However, it's electronic sections are somewhat discrete and never dominate the track. The song is overly slick and listenable, without any aggressive 'bando's' entering your ears.
Billie Eilish — "Bad Guy"
Billie Eilish's "Bad Guy" isn't an obvious song. In fact, the author explains that the song makes fun at how individuals present themselves to others. Hailing from her debut album "When We All Fall Asleep, Where Do We Go?", "Bad Guy" is all about making fun of people and their personas of themselves — even ours. 
Billie Eilish said about the song — "The basic meaning of "Bad Guy" is why are there those who need to tell everyone else they behave in a particular way all the time? 'Cause they aren't. In fact, I'm certain that you'll never see a bad bitch telling anyone else she's one hell of a bad bitch."
She further explains that those who go around all the time telling everyone — 'Yes, I'm bad, I always break all the rules, and do this and do that' — actually aren't. She knows, 'cause she used to say things like that, and she wasn't bad. True bad boys go about and don't say things like that. 
On the other hand, the song fits perfectly into any commuting playlist. If you want to find more great playlists, you should visit sites like Leasefetcher — they're brimming with perfect commuting soundtracks!
Red Hot Chilli Peppers — "Californication"
Let's be real. White guys don't need to be funky. They only need to rock, and that's what the Red Hot Chilli Peppers are great at. Although their songs are often passionate but without great songcraft, "Californication" definitely isn't one of them. 
For whatever reason — the band's age, getting sober, ambition, whatever — RHCP's "Californication" is tuned-down and written as something that will definitely tickle your ear, make you shake your booty, fill up your heart, and open up your third eye. 
"Californication" reveals sublime new facets every time you hear it. John Frusciante plays the guitar perfectly here and proves once again why he should be the only famous RHCP guitar player. He constantly hits the mark with slippery guitar riffs and brilliant power chords. 
Pop Smoke — "Mood Swings" ft. Lil Tjay
Unfortunately, this song comes from Pop Smoke's posthumous album "Shoot For The Stars". On the other hand, it also challenges Taylor Swift's "Folklore" for the #1 place on the Summer 2020 Billboard Chart, mostly because "Mood Swings" has that continuous moment for the last two months.
There's also news that the album "Shoot For The Stars" has gone platinum, going towards over 1 million copies in the United States alone. Nowadays, Pop's close friends have launched the official video for this song, which has experienced a big comeback on the Hot 100 chart because of its TikTok traction.