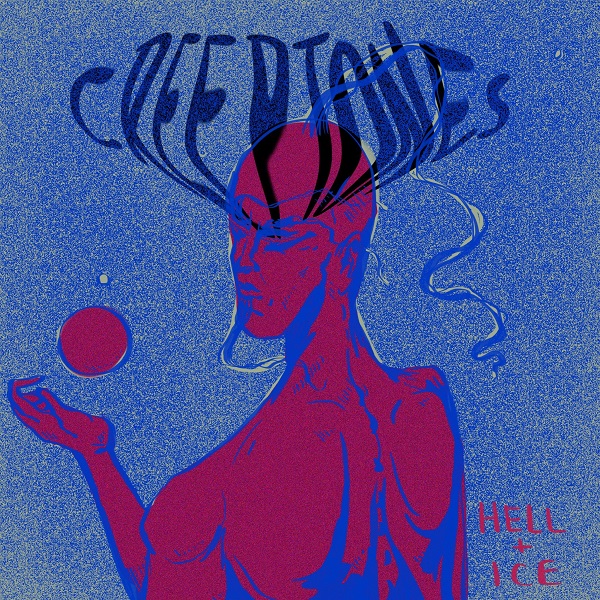 Asbury Park-based band Creeptones return with an engrossing new album in Hell + Ice, showing an expanded version of the sound they impressed with in 2012, with the track "Outlaw Tasty." The new album's self-titled track is a great showing of the band's melodic strengths. Sharp-cutting synths are gradually joined by hazy, hypnotic vocals. By the track's mid-point, the vocals have assumed an enjoyably fragmented quality amidst the developing synths, growing into a vein of blissful psych-pop amidst a rock-based rhythm section — fondly reminiscent of acts like My Morning Jacket and The Flaming Lips. The final couple minutes are engrossing and majestic, emitting dramatic melodic instrumental content that exudes a fantasy-like feeling amidst twinkling keys and lingering guitars.
Hell + Ice extends well beyond the impressive self-titled track. "Where Does It Get You" is a retrospective rocker the band wrote after attending Bonnaroo some years ago. The backing vocal reflection plays with consuming appeal amidst the twangy guitars. A brisker second half excels. "Security Threat" showcases the band's range well, expanding into a rhythmically active vein of electro-pop in the vein of Thom Yorke. The string-based haunts in the mid-section succeed, especially. Further, "Pay the Cost" is a fluid, jam-friendly rocker that plays with accessibly suave charm, while "All We Can Do" serves as a thunderous finale, the lingering orchestral effects and climactic percussion emitting a grandiose chamber-pop feeling. Hell + Ice is a fantastic showing from Creeptones.
Stream these tracks and the rest of Hell + Ice below:
—
"Hell and Ice" and other memorable tracks from this month can also be streamed on the updating Obscure Sound's 'Best of August 2020' Spotify playlist.