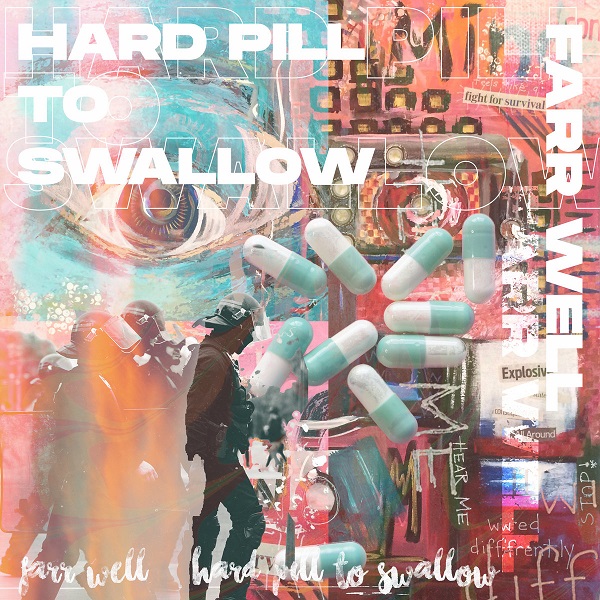 Hard Pill to Swallow is an inventive new EP from Minneapolis-based artist Farr Well. The artist, rapper, activist, and community leader shows an urgent, aesthetically rich tone throughout, bringing his admirable work as a mental health advocate into the fold, with lyrics that address mental illness, drug misuse, gun violence, and more. EP opener "Think" rides on a mellow organ, though continuously accompanied by punchy vocals and guitar-based pulsations. Farr Well and Marcus Kar lead a track that resonates with its aesthetic, reminding of Mac Miller, and lyrical content reflecting escalating stress and paranoia. Hard Pill to Swallow succeeds in its lyrical and production facets.
The artist elaborates more on the release below:
"Hard Pill to Swallow is my new album but it's also my new blog, podcast and conversation series about things that are hard to accept. Coming to terms with my bipolar Diagnosis in 2018, I'm opening the door for discussions around mental illness & generational trauma. It seemed like all I'd ever done was say Farewell to realities and parts of myself that don't serve me anymore. I had been exposed to a lot of realities, subcultures, and identities; it became clear that my persona was something that's forever evolving, says Llewellyn about the creation of his stage name.

I think that by being vulnerable about my experience with bipolar and depression, I can help normalize it; especially in black communities and other places around the world with little to no awareness. My hope is to encourage those who can't speak about it. A lot of people who manage mental illness don't feel comfortable talking about it publicly…This album is bigger than me; it has the potential to stimulate the conversation around mental illness and trauma in communities where it's stigmatized. It's a 'hard pill to swallow' but working through our hard life experiences is the path to healing and building resilience."
Stream "Think" and the album in full below:
—
"Think" and other memorable tracks from this month can also be streamed on the updating Obscure Sound's 'Best of July 2020' Spotify playlist.