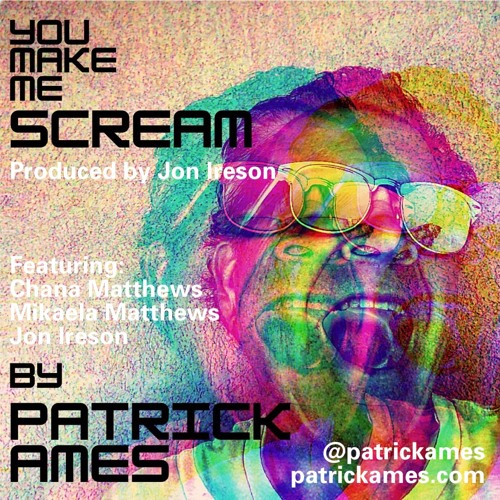 "You Make Me Scream" is a recent track from Patrick Ames, who teams up with producer Jon Ireson for an effort with a suave, funky pop feeling. Additional vocalists Chana and Mikaela Matthews add an excellent fervor, stylistically, throughout. Ames has impressed with several tracks in the past, like "Bang Bang Bang" and "Reawakened 2020." "You Make Me Scream" continues that string of successes. "You make me howl," the multiple-layered vocals exude with suaveness. "So tenderly," Ames repeats, leading into a series of guitars that plays it cool. This is a track that hooks easily with its confident aesthetic and well-layered vocal presences.
Ames elaborates in detail on the track below:
"You Make Me Scream (YMMS) is dance music. After a year writing serious songs and protest songs about our country and the politics, and experimenting around on the edge of folk and other genres, I just wanted to dance. And in the middle of the Pandemic, after months of quarantines and isolation, I wanted to dance. I usually write songs beginning with one guitar riff and one vocal riff, and then place them together. YMMS was the vocal riff and it pretty much starts and stops there. With only 9 words in the entire dance song: "You make me xxx, so tenderly", I'm more proud that I didn't use "Baby" anywhere. ; )

I've decided that dropping singles is much easier than doing EPs, or LPs, given the Virus, so I've decided to write and release every few months, and then at the end I can bundle up the singles together. YMMS is the first one with this new approach and one of the real issues was that everyone was/is sheltering. So I supplied my singers, Chana and Mikaela, with their own microphone, and Chana built a voice box to eliminate noise in their apartment (they are sheltering too). We had Zoom sound engineering 101 and a lot of unusable files in the dropbox.

Jon Ireson came in half way, as Producer and fixer. I recorded the rhythm guitars and vocals, with temporary percussion and bass tracks, while Chana and Mikaela sent in their parts. Jon is a wonderful producer and musician, and he filled in the bass and the guitar leads, but most difficult, he worked with a variety of sound files recorded in different places, on different equipment, recording at different levels, and he still unified it. YMMS sounds as good as it does because of Jon.

There is nothing music does better than make people dance. At one early point in the song writing process, I had "You make me scream, democracy" and the whole point was that democracy is exasperating. But the symbiosis between systems of government and funk music just didn't jive, so I went back to "so tenderly" instead of "democracy". And that's as close to serious that I got."
—
"You Make Me Scream" and other memorable tracks from August can also be streamed on the updating Obscure Sound's 'Best of August 2020' Spotify playlist.