Posted
May 11, 2021 by Chris
in Features
Gambling and music – a match made in heaven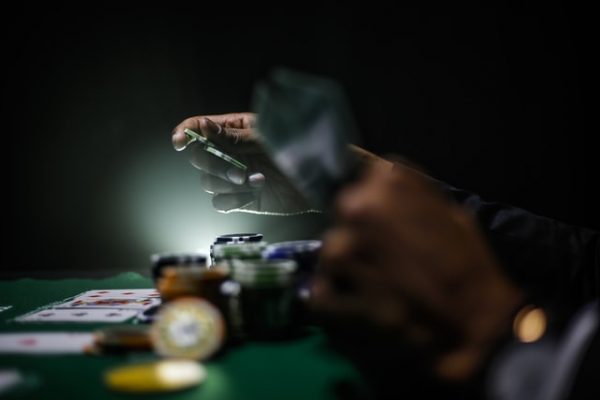 If you've ever stepped foot in an old school casino or you've immersed yourself in the enticing realm of online gambling, you've surely noticed there's a certain ambience that enwraps you from the very first moment. It's like you've entered a whole different dimension where time and space cease to exist and a world of possibilities opens up in front of you. But have you ever stopped to wonder what makes the casino environment so captivating and exciting? Where does all the glam and glitz come from and how do casinos, both online and offline, manage to manifest such a strong draw and have people coming back for more?
It might be the liveliness of the people, the prospect of winning big money and the risk of losing, giving you an adrenaline rush, the lights, the décor and the design that are responsible for the sheer excitement that's always floating in the air, animating the spirits. But there's one element that plays a very important role in creating the casino-like atmosphere and takes the gambling experience to a whole new level and that's casino music.  
As the gambling industry continues to thrive and the slot machine market is on a rising trend, we set out to discover the intricacies of the casino landscape and take a closer look at the intriguing connection between gambling and music. 
The power of music
Whether you're aware of it or not, the music you listen to at a land-based casino or when you're playing online casino games has a very strong impact on your emotions and behavior. It's no secret that music has the power to trigger a range of emotions, depending on the genre and the songs you listen to. There have been numerous studies proving that music has a direct impact on the way our brain functions, so it's no surprise music is used in so many different settings in order to create the desired effect.
Operators in the casino industry are well aware of this fact and know exactly how to use music to their advantage. There are different ways in which casinos introduce music and audio elements in order to trigger a certain emotional response from their customers and influence their behavior. No matter what type of games you enjoy playing, there's always going to be a certain musical background accompanying them. If you haven't noticed this by now, you might want to pay attention to it next time you get in the game and try to analyze the way it makes you feel. 
There are plenty of online resources that can help you decipher the bond between music and gambling, and you might want to check them out if you want to gain a better understanding of the gambling environment. 
The key to creating the perfect casino-like atmosphere
As we've mentioned previously, there are multiple elements that come together in order to create the ideal casino ambience, and music is definitely at the top of the list. 
In land-based casinos, different types of music are played depending on the time of the day. Low-tempo lounge music, the kind that you'd associate with the classic casino scenery, is most suitable for daytime. It induces a relaxing and peaceful atmosphere, allowing players to focus on their games and encouraging them to place one bet after another.
The casino environment changes after dark when more upbeat tunes fill the air and get everyone in the party mood. With livelier songs in the background, gamblers are tempted to take greater risks and place bets based on feeling rather than taking the time to plan their moves. The stakes are higher, the music is louder and the whole atmosphere is electrifying. 
In the online gambling environment, things are a little different. The background music is chosen to match each type of casino game offered by the operator. From rock to jazz and everything in between, there are countless tunes that one can enjoy while playing online casino games. 
Entertainment at its finest 
Not everyone plays casino games for the winning opportunities they offer. Some people do it simply because it's fun. And there's no denying that music can make everything a lot more entertaining. Listening to an upbeat song while you play your favorite casino game can lift your mood instantly. Between the background music and the thrill of the game, you can have a great time and stay entertained for hours. 
Enhanced gambling experience
Major casino operators like Vera and John Casino go to great lengths to provide their customers with the best gambling experience possible. From tempting bonuses and rewards to providing resources like withdraw guide at Vera and John Casino, the operator strives to make every moment spent on their platform more enjoyable. 
But no gambling experience would ever be complete without the right music. It's the details that make the difference and reputable casino providers know that all too well. So apart from ensuring everything works flawlessly, they also place a great deal of importance on visual and audio elements to complete the picture. 
Stronger gambling desire 
Every casino operator wants to attract new players and retain the ones they already have. But what makes a player come back to the same provider again and again? It's not just the technicalities that matter. Going back to the example of Vera and John Casino, players are interested in practical aspects and want to know about Vera and John Casino withdrawal procedure, but there's more to it than fast payment processing times and a simple withdrawal process.
Music is the secret ingredient that can create a special bond between gamblers and the casinos they choose. The music selection and the tempo of the songs that are being played in the background can lure gamblers and determine them to visit the same casino time and time again. Players will associate the music with the thrill of the game and every time they'll listen to it they'll feel a sudden urge to keep on playing.