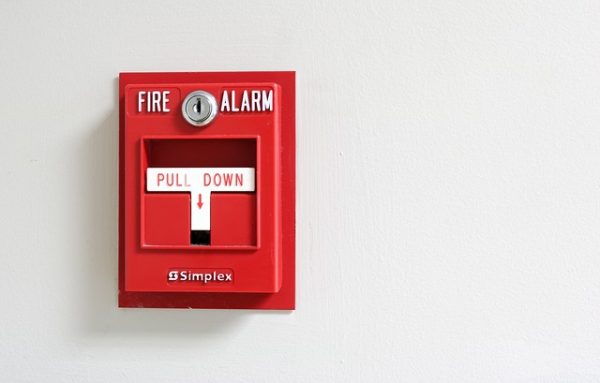 When it comes to concert venue safety, there are several different classes of fire under UK law – but the performance of the band themselves isn't listed among them. Nevertheless, when a truly 'on fire' band plays, it is sure to draw the crowds. And with that comes a whole headache for event organisers, especially where planning fire safety is concerned. Yet never fear, this is actually well-trodden ground and fire safety infrastructure for concerts is something that has been developing – and learning from its own mistakes – for many years. 
Although the coronavirus pandemic temporarily suspended most live events, what we are now returning to is this: large, rowdy crowds packed into space that only just about accommodates them. And this is the key issue where fire safety is concerned – how do you accommodate for THAT. Yet accommodate, you must, and it is a legal necessity that the swift evacuation of such large numbers of people is not only possible in the event of a fire, but efficient too. There also needs to be proper fire safety equipment onsite for fires to be tackled (and that is a different kettle of fish from tackling a house or office fire). In short, preparing for a fire at a concert venue is a hazardous business, and requires much planning to ensure the fire safety infrastructure is efficient and checks out with the law.
Organising fire safety for a concert has a lot of challenges also specific to this kind of event. For example, if smoke machines, dazzling lights and loud noise are to be expected (as is almost always the case with concerts) then a smoke detector, warning lights, and an insufficiently loud alarm are not going to cut it (for obvious reasons). The challenge then becomes creating a fire safety infrastructure that can deal with the twin problems of a large, packed venue and typical fire safety equipment being unsuitable.
Here then are a series of tips to make a concert as safe as possible, where fire safety is concerned. More than tips though, this is how to implement the fire safety infrastructure that is required by law, and which is all but necessary for concert venues as the pandemic subsides and people start flocking once more in their rowdy thousands to experience live music.
Carry Out a Fire Risk Assessment
A venue can assess its own fire risk in two ways. The first is to consult the UK's Regulatory Reform (Fire Safety) Order of 2005. This is a government document that mandates the fire safety infrastructure required for public venues of different kinds, including large concert venues. This is therefore a means of conducting a fire safety risk assessment yourself, ensuring that everything mandated by the order is adhered to. The document is very thorough, so it is unlikely you will miss much as long as close attention is paid.
The second means of carrying out a fire risk assessment is to enlist the services of a professional fire safety risk assessor. For residential homes across the country, this is a service that is, increasingly, being offered for free. Unfortunately, it will not be free for a large venue. But it is still well worth doing; and in combination with a close consultation of the official guidelines, it is very unlikely you will miss anything.
Have an Effective Alarm System
For a large venue, this means a comprehensive system of alarms and detectors to ensure that a fire anywhere in the building will be detected – and a fire alarm sounding will be heard in all areas of a building. As mentioned above, there are some unique challenges for concert venues here. Always prioritise heat (rather than smoke) detectors if there will be smoke machines used and make sure the alarm's sound is loud and piercing enough to cut through the typical racket of a music concert.
Make Sure Fire Extinguishers are Easily Accessed and Effective
What this means in practice is not only having the right fire extinguishers to hand, but also making sure they can be easily accessed. With such large numbers of people in a single space, it can often be counterproductive to initiate an evacuation in the case of smaller fires, so being able to manually deal with a small fire before it gets out of hand is preferable to raising a building-wide alarm. You can follow this rule: have one water-based fire extinguisher for every two hundred square metres of floor space. Also be sure to provide extinguishers around potential fire hazards such as electrical equipment.
Have an Effective Fire Action Plan
Again, an effective fire action plan will naturally take into account the size of space and the number of people typically occupying it. In practice, this involves clearly marked fire exits, an assembly point, and ease of access for emergency services, should they be required. Concert goers should also be aware of this plan, which leads us on to…
Brief the Clients and Attendees
For such large numbers of people attending a music concert, it obviously isn't practical to hold a fire safety demonstration ahead of the gig. But you can certainly broadcast information about fire exits and assembly points over a speaker system ahead of the event. You can also brief the clients, in this case the musicians, that will be playing. You may have to restrict or regulate the use of pyrotechnics or open flames if this is something an act and their crew have planned.
Employ Fire Wardens and Attendants
This is a necessary step for large music concerts. The simple fact of the matter is that most concert goers will not pay particularly close attention to any fire safety information broadcast just before the show. To make sure that everything goes to plan in case of a fire, you will need to employ attendants who can effectively control any evacuation and keep an eye out for hazards. As another rule of thumb, look to employ one fire warden or attendant for every 250 people in attendance.
Fire safety at concerts is thankfully well-trodden ground, as the wealth of official regulations and helpful information attests. By properly surveying your venue and assessing the fire risks (as well as taking steps to lessen it) an effective fire safety infrastructure can be installed at an event of almost any size. This allows both organisers and concertgoers alike the peace of mind necessary to make the evening a success.