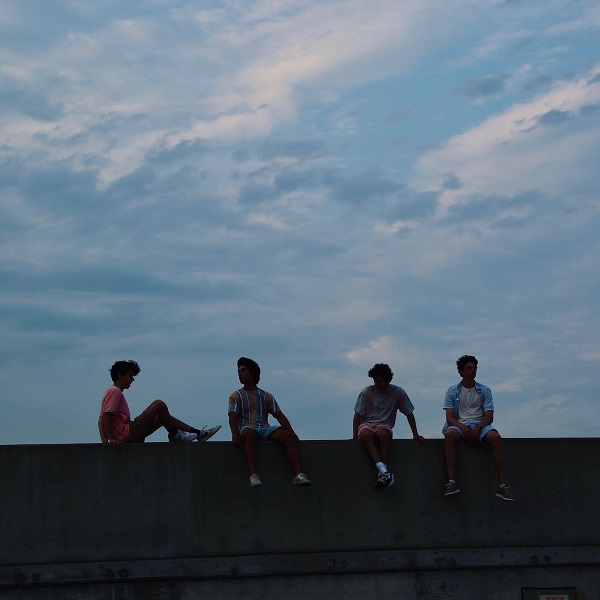 Below is our interview with Chicago-based band Livingroom, featured recently with the track "Keeping Time."
Don't Shoot the Messenger! shows a lovely, hooky sound throughout, with standout production. Did you learn anything from the process of creating 2020's Honeybee EP that helped with the process of creating Don't Shoot the Messenger!? 
Honeybee's recording process was an invaluable learning experience for the band. It was every band member's first time in a studio individually, so it was relatively uncharted territory. One (of countless) thing we learned from Honeybee that we applied to Don't Shoot the Messenger! was the idea that the studio could be a creative space, not just a place to record. With Honeybee, we spent two days recording instrumental and vocal parts, all of which were written before coming to the studio (bar some improvised synth and sax lines). When recording Don't Shoot the Messenger!, we treated the studio not only as a place to record, but a place to experiment and create. For example, the opening track "August II" was assembled and written entirely in the studio. 
The band's members met as freshmen in high school. Many high school bands fizzle out post-graduation, though Livingroom continues to excel years later. Do you have any tips for high school bands, for keeping musically productive following graduation? 
When Livingroom began in 2018, we did not have solidified expectations for the future. We started because we wanted to write and play music together. Through the years of writing and performing, we grew together as musicians, still without much consideration for post-high school plans. It was only once we began writing our album, however, that the future came into focus. Writing Don't Shoot the Messenger! was a pivotal moment for the band. In our album, we found a piece of art that we were extremely proud of. Because of our album, we believed that we had something new, something fresh to offer to the music world. After that realization, our ambition to pursue music was awakened. The truth about keeping a high school band together is that it's not much of a choice. There is a large difference between being a "high school band" and a band that met in high school. Once we naturally crossed that threshold, our goals became clear and unified. 
What are your recommendations for a music fan visiting Chicago for the first time?
Chicago is blessed with a ton of music venues. Check them out! We are especially fond of the medium-sized ones such as Thalia Hall, the Riviera, and the Aragon. The intimate concert experience is really great, and compared to other midwestern cities, Chicago has a ton of options to choose from in this department. 
What was the first album you heard that had a strong impact, either artistically or personally? 
The first album to deeply affect all four members of the band was Radiohead's sophomore album The Bends. Though we first began exploring it as sophomores in high school, it wasn't until shortly before recording that we began obsessing over it. Our personal favorite songs from the album were perpetually changing (and still are). Aside from the excellent melodies, instrumentation, and arrangements, The Bends spurred a maturation in the tone and subject matter of our music. We had always been able to crank out a feel-good pop song or love ballad, but The Bends encouraged us to explore the more
serious side of our songwriting, leading us to focus on themes of artificiality, letdown, and morality in Don't Shoot the Messenger!. 
Do you have a specific process or ritual when creating new music?
We have adopted a technique called "10-minute slots" that we tend to attribute (perhaps wrongfully) to the songwriting sessions of Lennon and McCartney. In one writing session, we can cram in five or six little slots where we attempt to rush a song draft towards completion as if we are about to record it. Only songs in their most basic stages receive this treatment; once it has been shown to the band, we take our time fleshing it out, whether that be weeks, months, or years. The goal of the 10-minute session is not to actually finish the song, but the added sense of urgency helps us formulate artistic opinions with ease and efficiency. The process also allows us to spend some time with a lot of different content in one sitting. 
Any favorite artists or albums you're listening to at the moment? 
– Phoebe Bridgers (Punisher) – Phoebe Bridgers' sophomore album Punisher is a masterclass in perfectly constructed lyrics. Maybe most striking about Bridgers' songwriting is the simplicity of the components that make up her complex songs. She has a way of conveying complicated feelings and thoughts through a simple and effective vocabulary. She is a master of self-restraint and using only what she needs, something particularly inspiring to us. 
– Hippo Campus (Bambi) – Hippo Campus's second album Bambi has been on heavy rotation lately. Everything about the record is just pretty awesome: production, vocals, even the album cover. It is partially responsible for putting the idea to start our album with a soundscape into our heads. 
– Coldplay (Parachutes) – Coldplay is arguably the biggest band in the world, but their debut Parachutes is made all the more charming by the fact that they weren't yet. Parachutes is beautifully earnest, and the standout tracks have aged well. "Sparks" and "Yellow" aren't getting old anytime soon. 
– The Beatles (Let It Be album, currently) – To be clear from the get go, we are always listening to the Beatles. But in light of the new documentary The Beatles: Get Back, we have particularly been listening to the album that this documentary features the creation of. Let It Be, the Beatles' final album, is the messiest and most human of their albums. It came at a time when tensions were high and cracks were beginning to spread. With this context in mind, the album is that much more compelling with the Beatles' signature captivating melodies and innovative chord structures. 
If you could collaborate with any artist, alive or dead, who would it be?
We have recently been captivated by the tragically truncated discography of Jeff Buckley. The story of Buckley's debut Grace and his premature death only add to the mysterious greatness that the album invokes. Buckley was no doubt an excellent guitarist, singer, and one-of-a-kind songwriter that influenced many artists we look up to (and us directly as well). 
What do you find is the most satisfying part of being an artist? 
Art provides us with a medium that holds intrinsic importance. Through music, we are able to do something about problems or feelings that seem too big to address otherwise. While there are countless reasons that we love being artists, the platform that music provides is the most satisfying. 
What is the biggest challenge you find in today's music industry?
One of the biggest challenges of today's music industry is also one of its greatest strengths. The barrier of entry to release music has become extremely low thanks to streaming services and the viability of the "bedroom" studio setup. While this new accessibility has allowed many artists to succeed despite limited resources, it also has allowed for what feels like the dilution of the music industry. With so much new music constantly released, it's harder for deserving music to float to the top. In our eyes, this has led to a situation in which cookie-cutter, unimaginative music made with the intention of fame, rather than artistry, crowds out innovative, artistic music. 
What's upcoming for the project? 
In the wake of our successful album release, we're working to build our audience through increased online presence and an imminent merch drop. This summer, we're planning on breaking into the live music scene in Chicago (our shows will be posted on our website!). 
We have also returned to writing with several new songs in the works. Keep an eye out for a new release in 2022!