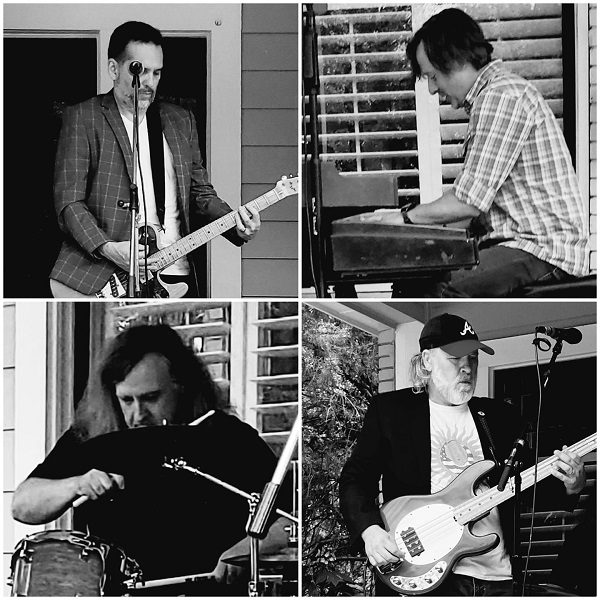 Below is our interview with Vectralux, featured recently with the track "Hidden Days." Band members Han and Andy took time to answer.
From the lush power-pop of "To Be Untitled" to the synth-laden rock frenzy of "Almost Whenever Now," Each Morning and the Morning Thereafter consumes throughout, with plenty of tonal variety. Was there a particular album, artist, or literary inspiration that had a special influence on the release?
HAN: Thanks! To answer your question, no – the album originated organically from just ife experiences. The "tonal variety" is a result of the honest place the songs came from. However, I have always admired bands that do not stay in one style so their influence are always there – The Beatles, The Clash, Spoon
ANDY: It's also a function of how we worked together. All of us contributed arrangement ideas, sound ideas. Han's songs naturally pointed in a direction – at least to me.
The album releases on vinyl in February. What's your most beloved vinyl record in your collection?
HAN: First pressing of The Clash London Calling
ANDY: Original pressing of Miles Davis' "Bitches' Brew"
Do you have any trip recommendations for a music fan visiting Atlanta for the first time?
H: Hang out in EATL or L5P (Wax n Facts/Criminal Records) , Try to catch a show at Variety Playhouse or The Tabernacle
A: The Trap House museum is a must. Don't neglect the 'burbs for your vinyl/crate digging needs!
What was the first album you heard that had a strong impact, either artistically or personally?
H: The Vapors – New Clear Days
A: Who's Next
Do you have a specific process or ritual when creating new music?
H: Sit on the guitar until I find chords that sound good, create a tentative melody, work on "what's the hook?" I believe we are an antenna, and some higher power delivers the good but the antenna has to be raised up. That's the way I raise the antenna
A: I'm nowhere near as prolific as Han, but I have a flow of little ideas and riffs constantly going. So I keep a list of random (and I do mean random) song or album titles and another list of lyric fragments. When I sit down to play I'll peruse the lists and see if anything hits.
Any favorite artists or albums you're listening to at the moment?
H: Holiday music, end of year lists, Geese, the Monkees (RIP Mike Nesmith), The Jam
A: Been spinning Urge Overkill a good bit. Looking forward to their new release.
If you could collaborate with any artist, alive or dead, who would it be?
H: Elvis Costello. Or John Lennon
A: Thundercat or Gram Parsons.
What do you find is the most satisfying part of being an artist?
H: Creating and having people react to it
A: I like that part. But I enjoy the making part more.
What is the biggest challenge you find in today's music industry?
H: While it's easier than ever to record and release, the fact that it is so easy means there is too much out there to search through. Are the next Beatles a band in the middle-of-nowhere Canada that put their Revolver on Bandcamp and no one but their friends and family have heard it?
A: Agreed. Getting heard above the tumult is a challenge for any given artist. Especially if you don 't want to hire a video production crew.
What's upcoming for the project?
H: The EP.
A: Yep. We're recording an EP right now. And you mentioned the vinyl release, which we will find an excuse to celebrate. So stay tuned.