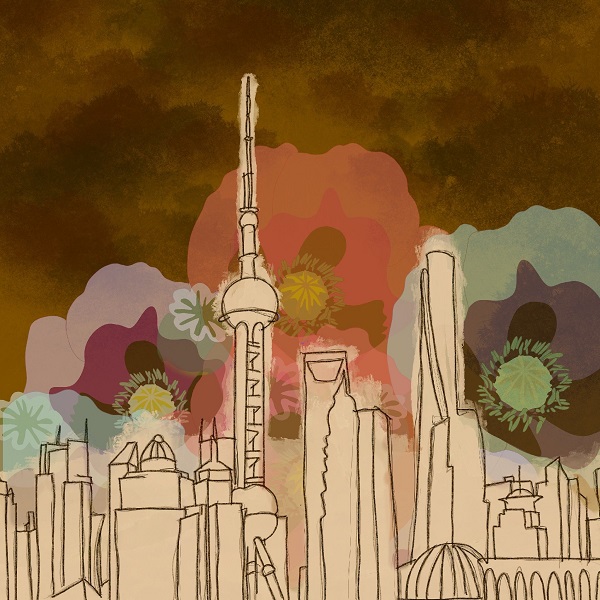 "Rock Bottom in Shanghai" is the latest track from ttypes, the project of Grand Rapids-based songwriter Tim Krauss. Impressing prior with tracks like "I Remember in the Time of Dangerous Groups" and "For Robert Downey Jr. Pt 1," the project continues to show a knack for peppy, hooky fusions of pop, rock, and folk. "Rock Bottom in Shanghai" is in the energetic rock vein. Krauss' vocals play gleefully, conveying "smoking weed like opium," amidst shimmering guitars and general exuberance. The vocals heighten in pitch alongside added guitar twangs in the chorus, playing memorably. "Rock Bottom in Shanghai" achieves with its bouncy, retro-friendly charm.
ttypes elaborates on the track below:
"'Rock Bottom in Shanghai' was written in th middle of the 2020 pandemic shutdown in the Midwestern US. The isolation and desperation of the song were inspired by that environment, as well as the romantic pasts of ttypes and his roommate.

The lyrics depict a person living in Shanghai, lost in nostalgia over a former lover, smoking far too much weed, and not eating enough food.

The initial inspiration for the song happened when ttypes heard someone sag the titular phrase, "rock bottom in Shanghai," out loud; it instantly reminded him of John Lennon's mid-70s cover album 'Rock 'N' Roll', and he decided to make a genre throwback song based on the idea.

The bridge and chorus take inspiration from late 70s and early 80s Kate Bush, as well as The Kinks, and Clap Your Hands Say Yeah! ttypes admits freely that there are probably influences to be heard in the song that he is not aware of.

While there was layering, minor tuning, and comping used during production, 80% of the main keyboard part and lead vocal take are taken from a 2-mic demo recorded the day ttypes finished writing the song.

The drums, bass, acoustic guitar, hand claps, and electric guitar were all performed and recorded by Chris Kennedy at his home studio in Arizona. Chris Kennedy is currently a member of Phoenix based band No Volcano, he started his career in music as a member of the 90s band Trunk Federation."
—
"Rock Bottom in Shanghai" and other memorable tracks from this month can also be streamed on the updating Obscure Sound's 'Best of January 2022' Spotify playlist.