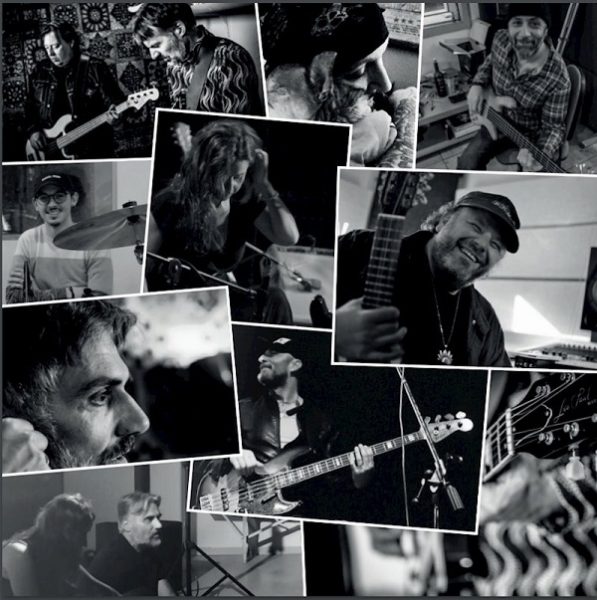 We chat with Port Nasim, recently featured with their album 'It's Murky Grey.'
Your new album, It's Murky Grey, touts a prog-rock nostalgia throughout, while also retaining a contemporary shine. What's your favorite prog-rock album of all time?
Rush – Hemispheres. It has everything: A perfect guitar sound, the best drumming ever, complex song structures with (sometimes)sing-along melodies, great, if a bit weird lyrics and a strong vocal performance.  Plus the best instrumental song of all times!  I lstill listen to it but I take long breaks in between. Carefully paying attention not to overplay it. And it is too strong to have more than one listen at a time
Did the project's sound change notably upon shifting to more of a solo project in 2019?
Definitely!  It was a Power-Trio approach before. A real band idea. We aimed to be able to play everything with just the 3 of us (ok, the 2 of us with ever-changing drummers…)  The songs were arranged to have 3 busy guys replicating the full sound also live. With MIDI keyboards triggered by Footswitches, limited backing vocals and single guitars. Very rooted in the alternative rock sound of the late 80 to early 90s. We played around with odd time-signatures but there was a strong limit of what we could do due to the narrow concept of wanting to be a band. I always found that something important was missing and that we were not really moving forward.
It turned more into a project afterwards where I brought in many musicians (we have 8 different people playing on that album…), each one adding his talent, input  and style. Now there are real keyboards, strings, layered guitars, a lot of backing voacls (male and female) and a much fuller production. 
The challenge now is to put together people to play shows (how many? Who?) 
And I can see where the music will probably go with the next album. I already have songs half-finished plus a short list of people I want to collaborate with!
What is your favorite musical venue, either to perform or witness a show at?
This is VERY difficult to define as I like a lot of venues all over the world. I am travelling all the time and always try to see live music in the countries I visit.
A few names that come to my mind: Babylon in Istanbul, Knust in Hamburg, Paradiso in Amsterdam, Zakk in Düsseldorf, the Roundhouse in London, Fabrik in Hamburg., House of Blues in Boston, Arena in Vienna… 
I prefer medium-sized clubs both for watching and playing shows where the artists are closer to the audience and where there's interaction between the band and the people who come to listen.
What was the first album you heard that had a strong impact, either artistically or personally?
Wish You Were Here by Pink Floyd: The strong lyrics, the long songs, the bluesy guitar in a more art-rock-environment. It is very crafted and constructed, yet very emotional. Important both for my musical development and as a soundtrack for a period in my life. Still impresses me the same it did when I started to listen to it. And also the first record I bought with my own money

Do you have a specific process or ritual when creating new music?
No and yes… Most of the songs are born when I play acoustic guitar. Often with just half an idea for a riff or a chord progression in mind. Picking, strumming, riffing around with the ideas, taking the apart, putting them together. Music and singing often start at the same time. I always have lyrics finished that I often use to fiddle around with the melodies. Of course everything will sound very different from the first sketchy ideas and the lyrics get reworked, adapted and changed  a lot. I always have to push things, structure the ideas, change the order… It is never the song "that composes itself". Always a lot of work around moving it forward.
Any favorite artists or albums you're listening to at the moment?
I rediscovered Aphrodite's Child 😉 . From the 60s but full of timeless beauty. Demis Roussus voice always give me goosebumps. And there is a Turkish Musician living in Hamburg who always gets me: Sinan Cem Ero?lu!
Apart from that I listen to a lot of classical Soul Music
If you could collaborate with any artist, alive or dead, who would it be?
Kate Bush!
What do you find is the most satisfying part of being an artist?
Creating something new out of nothing. Having nothing in the beginning and ending up with a fully arrangend song containing meaningful lyrics and great input from talented artists. It is never free-flowing, never a song that "composes itself", there is always a working approach behind that I find really satisfying.
What is the biggest challenge you find in today's music industry?
To find possibilities to play live!  Nobody knows what will happen. Will we go back to 2028  and before?  Plus to find a way to bring your music to the people without getting ripped-off by getting paid 0,… cents per Stream.  
What's upcoming for the project?
To present it live!  Find gigs to do an album release!