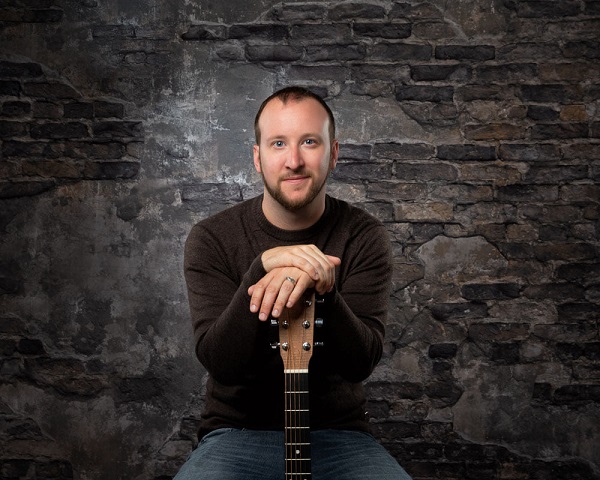 We chat with Texas-based artist Walking Apollo, featured recently with their new EP, 'You're My Pride and Joy, Etc.'.
Your new album, You're My Pride And Joy, Etc., departs a bit from the more tonally dark material of your EP, Walking Apollo. Was there anything in particular that prompted this change in direction?
The self-titled EP was a collection of new recordings of my favorite tunes from my younger days, so these songs were all written already.  Younger Me was a little sadder, a little darker, and a little more "emo," if you will.  I was that awkward teen trying to find a girl to hang out with me.  Then I was that panicky early-20-something, worrying that I was going to be alone my entire life.
When that EP received positive feedback, I decided the next one would be all brand-new music that my current fans hadn't heard.  It was fun sitting down and writing again.  Really getting into the swing.  And – wouldn't you know it – I'm married now.  And married life is pretty great!  But it does change how you write.  I found brighter messages coming through my lyrics.  It was weird.  Wasn't used to that.  But it worked and I dig it.
The album features the captivating vocal work of Christina Rotondo throughout. Do you alter your songwriting approach when writing with someone else's vocal lead in mind, as opposed to your own?
Man, what a cool question.  The CORRECT answer is yes, you SHOULD do that.  The honest answer is no, I did not do that.  This was the first time I wrote music with the knowledge that I wouldn't be the lead vocalist.  I wish I'd have consulted her while writing or before recording the instrumentation so she could have weighed in.  It's always easier to sing to something you're super confident with.  Next time, I think I'll play around with the songs' keys a little bit, so I can really let her go for it.  I can tell she has more fun when she gets to belt and put to work those amazing pipes she's got.
You've been carving out a great following in Fort Worth, Texas. Do you have any venue recommendations for first-time visitors to the city?
Fort Worth is a great city.  For first-timers, I absolutely recommend checking out The Stockyards!  It's a section of town, several blocks deep, that kind of makes you feel transported back to the 1800s in some parts.  In actual history, it was a stop for cattle drovers; you can still walk on the same cobblestone roads they used.  But nowadays, it's full of super Westerny restaurants, live music venues, little private shops… it makes for a fun afternoon, even if it can get a little kitschy.
What was the first album you heard that had a strong impact, either artistically or personally?
Elliott Smith's "Either/Or" still gets me to this day.  It was one of those albums I heard at the perfect time in my life.  I think everyone's got a few of those.  Even today, one of those songs will start playing and I can't help but grin and stop what I'm doing for the three minutes it's playing.  I just reminisce for a while – it relaxes me.

Do you have a specific process or ritual when creating new music?
Younger Buddy wrote about a song a day.  I still have 100+ songs just sitting on a dusty hard drive somewhere, that I haven't played in years.  Man, I should dig those up…
But today, I've found I really need to be bitten by the creative "bug" to start anything.  I write probably one song a month now.  However, I've noticed my success rate is much higher than when I was a kid – I used to write a lot of trash in my early days.
Just the other day, a melody and lyric popped into my head out of nowhere, but I was doing 70 on the highway at the time.  Had to pull out my phone and record a video of me singing it out loud to myself so I could hustle home and put in on paper!  I already know it's going to be the first song on the next EP.  I'm excited to finish that one.
Any favorite artists or albums you're listening to at the moment?
Do podcasts count?!  I've been on a mad podcast kick lately.
Seriously though, check out Sunfold's "Toy Tugboats" album.  And Jesse Ruben's "The Ones That Matter."  Those two always make me feel terrible about myself, because I don't think I'll ever be able to write anything that hits me the way those albums hit me.
If you could collaborate with any artist, alive or dead, who would it be?
Man… can I say Sondheim?  It would be so fun to write a musical, but I wouldn't know where to start.  Sondheim knows a thing or two about them.  Maybe in the afterlife, he and I will write a sequel to one of his masterpieces.  I'll pitch "Sweeneyer Todd" to him.
What do you find is the most satisfying part of being an artist?
I mean, I'm pretty notorious for trying to be funny, then just making myself look like an idiot once I open my mouth.  So, I guess it's nice being able to have several months to really plan out what I'm going to say before anyone gets to hear it.
What is the biggest challenge you find in today's music industry?
Dude, the competition.  There's just so much amazing music being made out there.  You get lost in the shuffle.  Before the internet, there was what… like nine bands in the whole world?  Now, a fifteen-year-old with a YouTube channel is getting signed to a multi-million-dollar deal.  And guess what?  That kid's better than I'll ever be!  It can get super depressing super quickly if you take it too seriously.  My advice to anyone in this business is to just have fun and do what you love.  If you make music that people want to hear, they will hear it.
What's upcoming for the project?
I am currently going through contract negotiations with a large YouTube channel for them to use my music in some of their videos.  That will be really cool when we get that going.
After that, it's back to writing and planning out EP #3!  Very excited for the next one.  Will be the strongest yet.