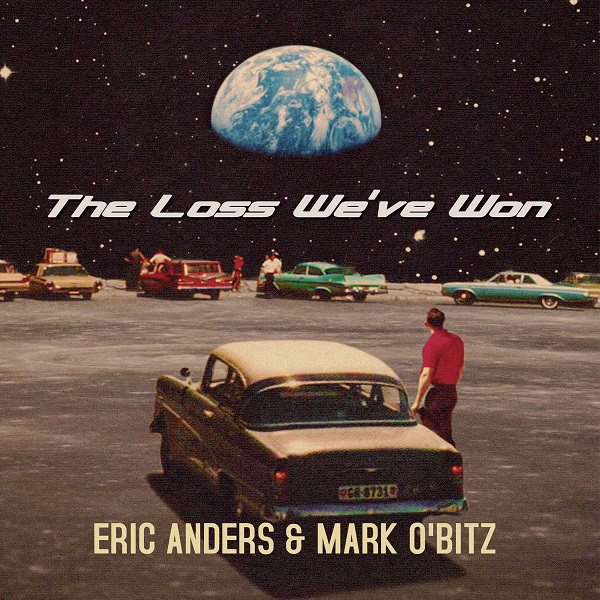 The newest collaborative album from Eric Anders and Mark O'Bitz, The Loss We've Won is a moving release that intermingles folk, Americana, and rock with Anders' relatable lyrical content. Some tracks are autobiographical, and — per Anders' blog post — the album in general delivers "Americana songs about family, marriage, parenting, getting old … and human extinction."
Solemn, flickering acoustics and a string-laden undercurrent craft a striking soundscape throughout the opening "One Life," where yearning to "hold tight," amidst the heart-tugging instrumentation resonates. Strings are especially evident on the riveting "Above Below," succeeding in its folk/country arena. "Not at One (Revisited)" stands out in the folk-rock vein, reminiscent fondly of Father John Misty.
The emotive songwriting continues throughout, touching on various phases of one's lifetime. Led by vibrant guitars and multiple vocal layers, "Family Song" plays as a welcoming ode to new life, similar thematically to Sturgill Simpson's "Welcome to Earth (Pollywog)." Similarly, the playful melodic pull of "Young Eyes" resonates alongside youthful retrospection.
The duo again partnered with multi-instrumentalist and producer Mike Butler for the album, following up previously featured efforts like "Morton's Pillory Plea" and "Bury Me."
Stream their album, The Loss We've Won, below:
—
"One Life" and others featured this month can be streamed on the updating Obscure Sound's 'Best of May 2022' Spotify playlist.