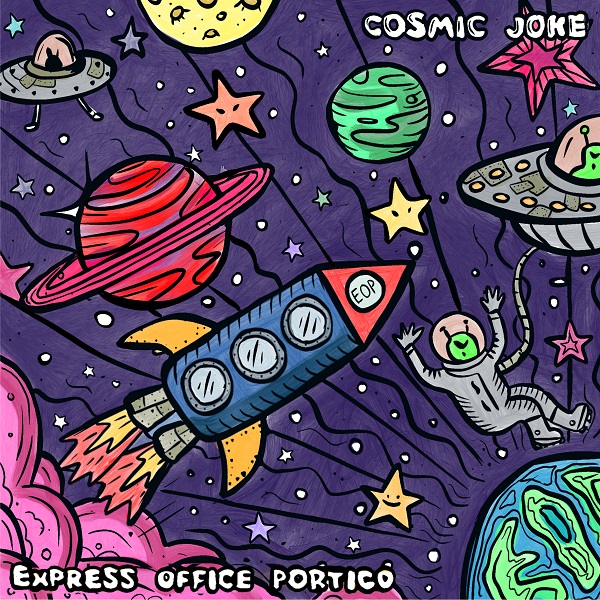 A hooky success from Express Office Portico, "Cosmic Joke" blends R&B and funk with a synth-forward pop sound. Lush synth pulsations and funky bass drive into a captivating vocal lead, quickly adorned by catchy guitar jangles. "Give me something to believe," the vocals follow the "save me," refrain with, closing the track with ample melodic satisfaction. The track's verses expand with gradual vigor; the bass-fronted demeanor past the one-minute turn is steadily joined by funky guitar trickles and colorful synths, the "it's all a cosmic joke," line arriving with hooky precision.
The Nottingham, UK-based act impress with replay-inducing songwriting and standout production throughout the track, elaborated upon further by member Billy Townsend:
"Cosmic Joke came about by trying and failing to work out the chords to the 70s classic "I'd Rather Be with You" by Bootsy Colins. As a big fan of artists immersed in RnB and Funk (Erykah Badu, Yellow Days, Steve Lacy), I began thinking, how would an Express Office Portico track with these accidental chords sound? Cosmic Joke evolved from there, with other influences such as Men I Trust, Beach House, Yellow Days, Rex Orange County & Mac Demarco adding to its creation."

"The title comes from an idea in philosophy that the entire universe and life in general is just one big joke. A trick played on humanity by existence itself, or God, or whatever you wanna call it. "It's all a cosmic joke, nothing less and nothing more""

The lyrics are essentially about having an existential crisis and the utter confusion of being a conscious human in the physical world. Everyone is searching for meaning, but life is fundamentally meaningless. So, we might as well just laugh about it all, and try to enjoy it as much as we can!"

"The single was recorded as a trio of singles, with the drums recorded at Old Chaplin Road side of Battery studios in Willesden, London, UK. It was produced and mixed by Joshua Rumble (bassist from Anteros), with the recording of the rest of the tracks recorded at his family home. The company of Josh's dog Guus kept us all entertained as we each recorded our parts, with Guus even joining in with the vocal warm ups! Mastered by Nick Watson at Fluid Mastering."
—
This track and others featured this month can be streamed on the updating Obscure Sound's 'Best of May 2022' Spotify playlist.
The track is also featured in the genre-based, best-of Spotify compilation Emerging Indie Funk.