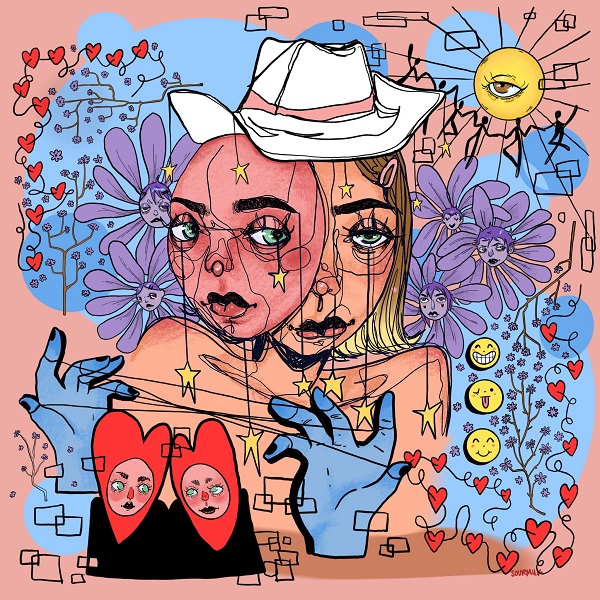 Whether you are listening to this song while the moonlight shines on your cheekbones, as you elegantly dance during midnight drinking Merlot, or maybe feeding raspberries and dark chocolate to that certain someone, this celestial song simply just makes your heart feel intoxicated.
Frances Baker's new track "Soulful Baby" is nothing short of angelic euphoria on the ears and liberation on the body, with a slight tingle. Songs like this evoke my temptation to paint my bedroom a shade of blush pink. The artist's songwriting sends chills down your spine, even as she inhales for her first note.
Baker, a Nashville-raised sensation, serenades us with her new take on an older style of soul, which has become rare in today's music world. With her glimmering vocal abilities and sincere way with words, everything about this track is glamorous, everything about this track is woman. In regards to instrumentals, the use of reverb and echo effect complement the tonality and aura tremendously. With abundant talent, Baker accompanies her vocal range and effortless vibrato with a relaxing melody, accompanied by a lo-fi touch — all making for a passionate masterpiece.
The steady drum line and tempo decorates the imagination of watching Frances perform this life. Picture it, a dim lighted bar with abstract wall art hanging on brick walls, and Devil's Ivy dangling from the ceiling. The versatile musicians' use of background vocals are arousing on the soul. The style reminds me fondly of Ms. Lauryn Hill's "Killing Me Softly." I have a gut feeling she would be so pleased with this technique and delivery.
As Baker continues to pave her shimmering path, her musical talents are alive and breathing, and she is indeed a child of the universe, ready to mend broken hearts and enchant those falling in love, all at once. This unique phenomenon is on her way, staying true to herself with heartfelt sounds and spiritualistic style.
—
This track and others featured this month can be streamed on the updating Obscure Sound's 'Best of June 2022' Spotify playlist.