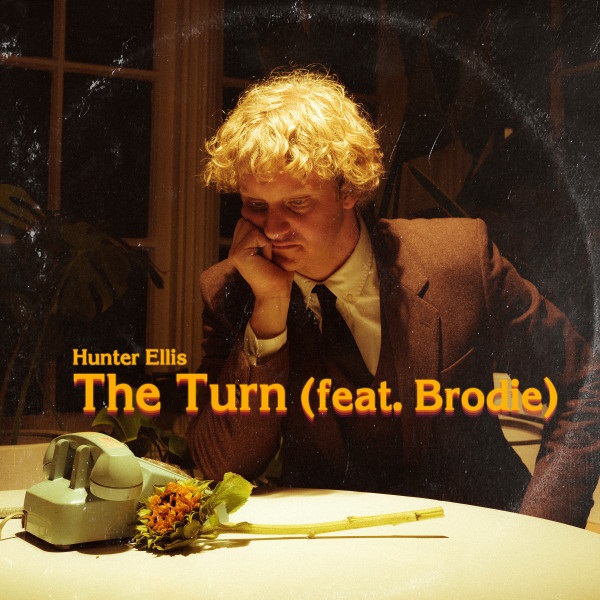 "The Turn" an anthemic track from Hunter Ellis, featuring Brodie from Cathedrals. Brodie's stirring vocals kickstart the track alongside tender guitar tones. A warming backing synth helps drive to the playful key addition, preceding a twangy guitar addition. The two-minute turn sees a rising effervescence in the vocal tone backing organ, resonating with a glistening, sun-shining appeal. Ellis' stellar songwriting is lifted further by Brodie's spirited vocals, resulting in a memorable and accessible success.
Ellis previously impressed with his Face Tapes EP in 2020, which touted a post-rock influence. He elaborates further on the creative process for "The Turn" below:
"The song was written on acoustic guitar almost as a joke. I thought it reminded me of those indie rom coms where the characters are separated in act IV but you know they're going to get back together in act V. I wrote some lyrics that kind of vaguely represented some relationship issues I was dealing with (I'm still happily married with a toddler!), and then kinda latched onto the card playing theme–the Turn, the River, and the Flop(ing) that I saw in each line of the bridge are a reference to that."

"I originally recorded all the vocals myself, but then asked my friend Brodie (who's a wonderful singer on her own and in a project called Cathedrals) to re-record them, and she did a wonderful job. I had originally thought that I'd have both of us on there, but her voice was like a beautiful instrument that I wanted to hear, and my voice was…well…fine. Brodie also convinced me to get some real drums on it (I had some pretty extensive electronic/sampled drums originally), and so I recorded Linden Reed during my time at Prairie Sun Studios, using their beautiful Black Beauty Ludwig."

"Finally, I got some great mixing tips from my cousin-in-law Jesse Shatkin, which really helped give the instruments the space they needed and helped to craft the overall flow. Mixed, summed, and mastered by me in my own studio, through much trial and error."
—
This track and others featured this month can be streamed on the updating Obscure Sound's 'Best of June 2022' Spotify playlist.