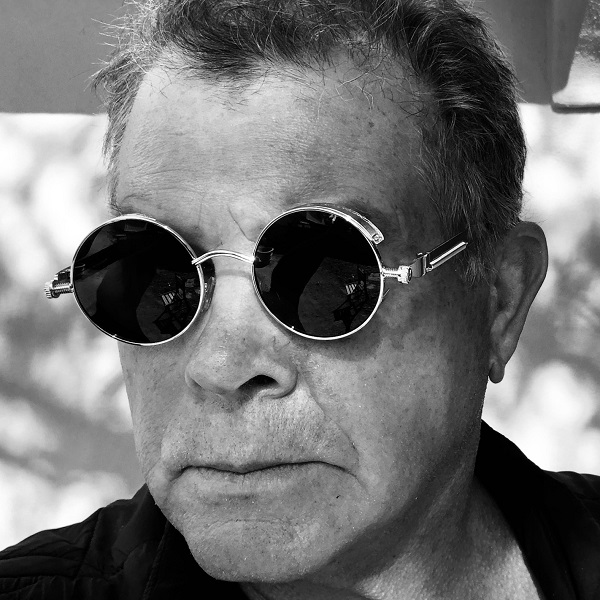 We chat with Patrick Ames, recently featured with his album Harmonium.
The haunting opener on your new album, Harmonium, is entitled "No People Are Supreme." In an age where the world's leaders are all too often touting narcissistic qualities, the theme resonates. Is there a specific inspiration for the track?
At one point, early on, it was about blatant white supremacy and then the Ukrainian invasion by Russia happened midway through one of our Doors simulations, which influenced the later bounces into a Ukrainian Doors trip thang. The track sets the stage for the whole LP and afterwards I let songs go where they seem to want to go down this avenue. It was Jon Ireson, the producer of Harmonium, that brought the hypnotism, that spell-binding thumpness. His accompaniment is divine. He uses Chana's voice as an instrument just as I have always tried to do. She's accent, she's accompaniment, and I think the lady would appreciate that praise. I love this song because applies to so many bad things in our society. Just this weekend, No People Are Supreme, including it seems our Supreme Court justices.
The album was recorded in your home vineyard. Do you prefer recording somewhere like home, where it's more familiar and comforting, or somewhere like a studio, with potentially less distractions?
Studios are fun but I don't know of single one, anymore. If I work from home, I can pay studio fees and a nice buffet dinner at the recordings without breaking the indie bank. Physical studios are a dying breed and another victim of virtualization. Listen to Harmonium. Go to Apple and get the Lossless version, or the high-res from Bandcamp. Jon Ireson will stretch your ears. It's awesome what we did all that with base equipment. I do miss the on premise sound engineer: What a Luxury that would be.
Are there any artists or art that inspired the album's general themes?
Well there was/is Wallace Stevens, the American poet, whose title Harmonium I stole. I also spent a lot of pre-studio time practicing my baritone… so I practiced alot of songs by the Righteous Brothers, Barry White, Micahel Bolton.
"Will I Ever Noticed" plays with a consuming yearning. Is there a more ambiguous theme at play, or is this more in the vein of an unrequited love song?
Love in the Age of Masks. You have to write about love songs when they are successful and you have to write songs about when they don't. Truth be told, I like the yearning songs better than I like fulfilled love songs because there's always someplace to go.
Your music has a very poetic quality, in the vein of Nick Cave and Leonard Cohen. Are there any poets, or specific poems, that resonate specially with you, either recently or in the past?
It's the whole point of the LP.  Is songwriting more like poetry, is it song, or is it a poem, or is it both? And how does that make your marbles curve. It doesn't matter really to 99% of the listeners, but it's a personal singer-songwriter thang for me — am I a poet, which I studied in college, or a songster, which I played every weekend in college. A few decades later, and voila, I'm still the same doing both and mashing them together. I've been thinking of doing some spoken word music lately, perhaps I investigate that a little more.
Producer Jon Ireson plays a prominent role on the album, adding gorgeous bass lines and instrumentation throughout the releases. How did you meet and start your collaboration?
Jon is Harmonium. And he is The Virtualistics, too. Jon Ireson is amazing. We dropped into this work relationship quite nicely after James Moore of IMP hooked us up. It's been one of the more effortless musical relationships I have had. We either think alike musically, or I'm so transparent, but we trade versions back and forth. And yes, his bass is gorgeous and you can listen to the whole LP just concentrating on the bass lines. He did a lot of guitar work and keyboards and he fixed most of my persussion. Jon is amazing and you could have no better Producer than Jon. I tip my hat.
Thanks for letting me rant, thanks for believing in the time-honored interview where words and music co-exist for awhile. That's the word I live in and that Harmonium expresses. No People Are Supreme.
Stream Harmonium in full, below: