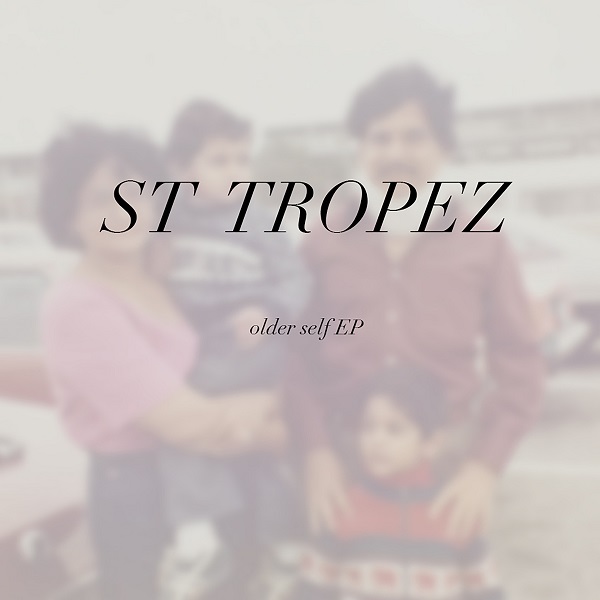 St. Tropez present listeners with an immaculate sound-to-soul experience. The Oakland, California-based group of longtime friends have seen each other through their most joyous, chaotic, heart-aching moments — and integrated these experiences into a mesmerizing EP, Older Self. There's an expression "music is life." This quartet floods that saying with meaning, in an astonishing four-track configuration, full of melodic charm. Intertwining shatterproof commitment and melodies in their veins, this universal indie-rock sensation have been making memories and creating since 2007.
Even in the midst of existing, and all those dizzy twists and turns that join this phenomenon we call the human experience, St. Tropez still made writing and performing a priority. With a mutual love for '60s folk compositions and Afrobeat alike, the group's sound throughout the EP intrigues, from the string-laden rock theatrics of opener "Cold Heart" to the lush escapism of Shame," touting shades of Talk Talk. St. Tropez have generated a peculiar, captivating rhythmic foundation, with a dose of electronics that makes you feel like you took a cruise along the California beach and made a stop in outer space.
The newly released EP is a continuation of the music they have been working on since their self-titled debut album, released in 2014. As the members have evolved into parents, spouses, and musicians, their collective metamorphosis takes on an audible form. As their hearts beat and set tempos for the tracks, we have the pleasure of submerging into a band inspired by both pleasure and hardship through the years, and how they stood shoulder-to0shoulder through the waves. After all, Bill Withers did say "Lean on Me."
St. Tropez is the brainchild of versatile individuals; Jeremy Fisch (Drums), Aki Ehara (Bass and Producer), Lalin St. Juste (Vocals and Sounds), Sanjay Vora (Vocals, Guitars, Keys, Words). For this EP ,the bandmates constructed eclectic percussive techniques and nostalgic infusions from copious locations at various times of day. From sunrise to sunset, the visions never stopped, and they just could not seem to escape "The Sound of the Sea," thankfully.
The band add the following about the EP:
"The name, Older Self is quite open to interpretation. Is it the older self we dream of being when we are kids? The freedom to do or become the dreams we dream, to do whatever we want? Or is it realizing that we are now the older self and we only dream we could be younger again, further from death and closer to the beginning of our lives when things were simpler. The songs of Older Self incorporate everything about our lives–love, loss, nostalgia, melancholy, joy while asking deeper questions about the meaning of life and what lies after."
—
"Cold Heart" and other tracks featured this month can be streamed on the updating Obscure Sound's 'Best of July 2022' Spotify playlist.