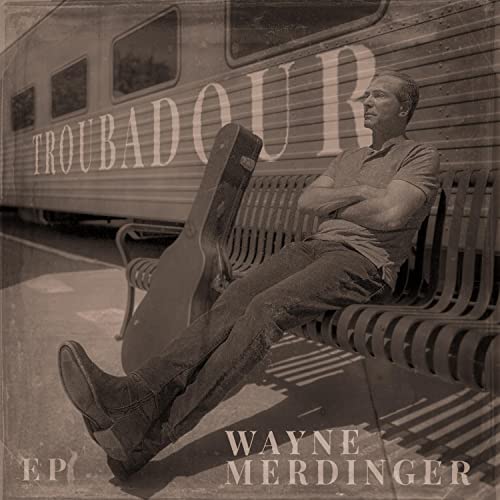 The Troubadour EP is a showcase in quality songwriting from Wayne Merdinger, an artist based in Scottsdale, AZ. Ranging from autobiographical searches for perfection ("Troubadour") to a tribute to the current plight of the Ukrainian people ("Waiting For the Love"), the release presents a stimulating sound ranging from intimate folk to scorching rock.
"Waiting For the Love" sends chills with its lonesome acoustical plucks and string-laden hints, driving to a rousing "they're waiting for the love," culmination. The track is enjoyably representative of Merdinger's tonal ranges and lyrical eloquence, also conveyed via the suavely invigorating self-titled track. Merdinger says: "This title track revisits sentiments I wrote about earlier in the songs, "Behold the Invisible Man" and "Jekyll and Hyde," where I talked about having lots to say to the world if only people would listen, while essentially living two separate lives, as both a businessman and a recording artist."
Similarly consuming, "Nebraska Bay" is a moving retrospective, written about overlooked band Nebraska Bay, who Merdinger befriended in the '70s. "Sitting in the corner of the basement, I go crazy for their sound," Merdinger recounts. "Much to my amazement, they were never to be found." The personal recollection highlights the sheer abundance of beautiful music that goes largely overlooked (a big reason this site was formed!). The contemplative rock/folk hybrid plays with a nostalgic fervency that fits the track's themes.
Our extensive interview with Wayne Merdinger explores the release further in detail.
Stream the EP:
—
"Troubadour" and other tracks featured this month can be streamed on the updating Obscure Sound's 'Best of August 2022' Spotify playlist.