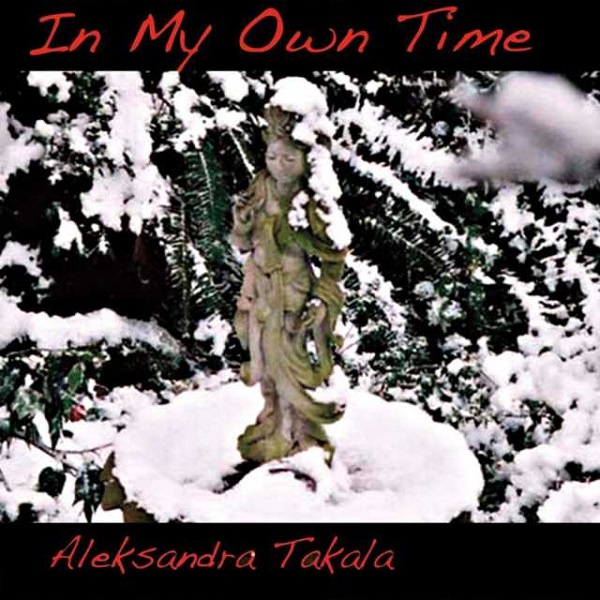 We interview California-based neo-classical composer Aleksandra Takala, recently featured with her new album In My Own Time, showcasing a fusing of ambient, chamber-pop, New Age, and prog-rock genres.
Your new album, In My Own Time, feels like an enchanting escape from reality. Ranging from brassy stomps like "A Tribute to the People" to lush string-laden features like "Helpless to Help," the production is notably diverse. When you write a song, do you usually have a particular instrument you're focusing on writing for, or do the instruments of choice tend to come thereafter?
Thanks for your interest and patience Mike.
To answer your first question, I often begin with piano because of the range of 88 keys, all other instruments fit within it. I can hear the other instruments fill in the melodic & harmonics track by track. Often the melody comes out first, and I am known for being a stream of consciousness composer. Bass and or percussion come in for rhythmic time, but not at the expense of losing the original melodic feeling.
You host a 4-hour weekly radio show on Sonoma County's KOWS radio station, highlighting a wide range of music. How do you usually find new music these days?
In a tiny town of 1,200 people, came the 3-watt antenna hung on top of a redwood tree, I did host a long weekly show on KOWS radio for ten years. I played whatever I wanted to. So I played songs from the 1938 live performance of "Sing, Sing Sing", to 1950's blues rock and soul. So from Elvis to Pink Floyd and beyond to Nirvana, I played each show based on the 'collective energy' of the day. Following KOWS in 2018, I've used the time recording and releasing my first two CDs. The music of today is found on line. Be it on YouTube, or other indie stations like yours.
What recommendations, music or otherwise, do you have for first-time visitors to the Northern California area, where you are from?
San Francisco is about an hour south of Sonoma County. There are all manner of things to do in the City, especially for the younger generations who love to get out and into it. In moving to Marin, Robin Williams began to see what San Francisco offered in night life, eventually living in Marin, and before his LA adventures, which made him world-renowned.
Just a bit further north on 101, the city of west Petaluma is noted for films like "American Graffiti" and "Peggy Sue Got Married" because they maintain the original town and neighborhoods of early 20th century.
If quiet reflections are what you seek, the redwood forests surrounding the town of Occidental and beyond. Just five miles west of town on Highway One is Bodega Bay, where the back drop of Alfred Hitchcock's "The Birds" was featured. Remain on Hwy One to see some of the most beautiful coastlines in California.
You fully embrace the world of music technology. What are some of the most striking innovations, or tools you've used, in recent memory that have aided your songwriting/production?
I received my music degree in the late 1980's using analog piano which inched its way to the computerized versions of music to come. The ability to print out one track of Treble Cleft notated music was cutting edge. Although composition began then, it did so with other musicians playing on my songs. Computerized music began, but it was synth based keyboard with none of the touch sensitivity of the piano. Flash forward a few decades, keyboards could be programmed with acoustic and electric guitars, Italian grand piano program, orchestral instruments played and recorded by live musicians, sounding authentically real. So, as long as I pay attention to the detailed techniques in which strings, guitars, brass, woodwinds, and percussion are sounded, my dreams were realized, and the potential is endless. I needed to learn computerized music programs and the Korg Triton keyboard itself.
This right-brained creator hired a tech teacher so that I would be able to put the musical ideas like "Big Sky Ride", created on piano decades earlier into the orchestral arrangement you will be playing on your show. Mind you, I am not a left-brained computer person. Beginning by learning lap top email, I've now learned how to compose, orchestrate, produce and engineer… all the technical steps needed to send my completed music via cyberspace to be turned into the physical CD format. The visual art work on the cover and disc itself was completed by my very talented photographer husband, John Blair.
Do you have a specific process or ritual when creating new music?
The process I use is to walk into my studio, sit down and turn the equipment on. Then I either continue with a work in process, or find a tiny idea that catches my ear, and may only be a few measures long yet becomes a song. Sometimes, I just put my fingers on the keyboard and play stream of consciousness recording, like "Helpless to Help". What's inside emotionally comes out in song. I have always felt the music move through me as a Co-Creation.
Any favorite artists or albums you're listening to at the moment?
Having an incredibly extensive library of endless music, so much of what I love has been what they used to call 'deep cuts'. Songs on albums that were not commercial enough for radio, but so musically genius like Gentle Giant, and Pink Floyd's album, "Meddle", old Genesis recordings, and guitarist Jeff Beck. Music we called "progressive rock", that was termed 'dinosaur music' by up and coming punk bands.
If you could collaborate with any artist, alive or dead, who would it be?
Debussy comes to mind mainly because the music he composed at the start of 20th Century classical was considered 'dissonant', to which he replied "today's dissonance is tomorrows consciousness." (close to what he said, anyway I got his idea across.)
What do you find is the most satisfying part of being an artist?
I have been a floral designer of big-stage displays, Rose Parade floats and decorating the Rose Parade Mansion as well as a visual artist, creating drawings and paintings on canvas. Music is the one I returned to, because there is no end to it. The same 11 notes have been used to create all of the music since before recording was invented. I will never retire from it.
What is the biggest challenge you find in today's music industry?
Promotion is the one area of music composition that I am not good at…bummer! I am struggling to find one person who does promotion as a profession, as I had with my first release, "Visions & Emotions". I sent 200 CDs to the promoter and he sent them around the world. When I asked him about In My Own Time, I found that he had retired. So I do it one at a time, and it is like pulling teeth for me, as you can sort of tell. So, I am very happy that James found that you were interested in this CD, and here it is.
What's upcoming for the project?
Next project is to listen intently for a clean release of a single composed in 2020. It will be going out to YouTube, called "Dance Suite" (may be different title upon release). Currently working on my third CD release within the next year or so, and I've been working on a musical version of the first century AD "Masada" story since the 1970s. So, as I mentioned earlier, from music composition there is no retirement.