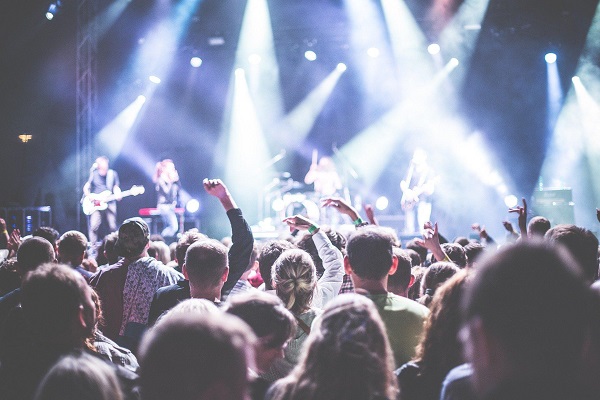 Waking Up in Vegas
Las Vegas is renowned for its casinos. But there is so much more to Vegas than that. At its very pulsing heart is music. Many great solo artists and bands have had residencies here. Frank Sinatra himself rekindled himself and his reputation on and around The Strip. Music and gambling have gone hand in hand for many years. As they say in the business, 'that's entertainment.' 
Las Vegas hosts at least eleven music festivals this year alone. Festivals include The Electric Daisy Carnival, Exodus Festival, and Life Is Beautiful. Performers as diverse as Kendrick Lamar, Radical Redemption, Chain Smokers, and Stevie Wonder will be performers. With ticket prices of us to $800 for four nights, festivals are big business. Casinos are excellent places to host music events, and for all involved, it tends to be a win-win situation.
Twenty One
One of the main reasons is that the legal age for people going to a casino is twenty-one. This allows the event's promoter to gear the festival for a more mature audience. Your average pop festival in a field might have a much younger audience of people who are prepared to camp and get muddy. They probably will not have as much disposable income as the slightly more mature market. 
Casino opening hours also make them very attractive. They are licensed to be open twenty-four hours a day, so they can be incredibly flexible when scheduling gigs. They are an opportunity for the casinos to generate a lot of money as well. Not only from the ticket price but also from sales of merchandise. The bands playing at the festival draw in their own fan base who might not have come to a casino otherwise. The large crowds create a festive atmosphere, and people will feel inclined to have a flutter. Music festivals create a genuine feel-good factor, which can only benefit the casino operators. The artists and promoters perform in top-class venues with excellent facilities. Even the poshest festival portaloo cannot compare with a suite at a Las Vegas hotel.
Sanremo started it
Probably the earliest festival that took place in a casino happened in Sanremo, Italy. It started as a singing contest – a far cry from what we consider a festival today. Originally proposed to take place in 1931, it did not happen due to the wartime climate in the country. In 1948 the Italian composer Aldo Valleroni initiated a National Singing Festival in Viareggio. It was incredibly popular but stopped after two years due to a lack of funding. Then the event organizer of Sanremo's casino, Angelo Nicola Amato, came up with the idea of a singing competition for radio listeners. He teamed up with Angelo Nizza, who hosted a radio show, and the first performance took place in 1951. That year there were three participating artists, and the event was transmitted on the radio. Over the following decades, it became more structured and lively. A top-notch orchestra accompanied the performers, and the number of entrants swelled. After 1967 the festival moved to the town's Ariston theater. It is said that the festival was the inspiration for the Eurovision Song Contest
Montreux Jazz 
1967 was the year that saw the inaugural Montreux Jazz Festival. The festival initially catered exclusively for jazz musicians like Miles Davies and Keith Jarret. The festival is now held on the shoreline of Lake Geneva in Switzerland, but it started in a casino. The casino burned down in the mid-70s, and a new venue had to be found. While it is still called the Montreux Jazz Festival, it has a more varied program than its name suggests. It has hosted rock, blues, and soul musicians. Both Pink Floyd and Led Zeppelin have been among the headline acts. This annual festival started as a three-day event but now spans two weeks. Muse, Neil Young, Lana Del Rey, and Quincy Jones have all played at this event recently.
Festivals on the TV
Festivals are all about being together with thousands of other people, all enjoying the event together. Festivals attract huge crowds, and these have been swelled by people being able to join in at home. Many of the world's most popular festivals are now beamed into people's homes. Friends come together, put the big screens in their backyards, and get a full festival vibe. Just like a festival in a casino, friends can play on the slots and sweepstakes casino online together, thanks to up-to-the-minute technology. Many people prefer the experience of the home-based festival. They say they get a better view while still being able to soak in the atmosphere.
The Making of Macau
Music festivals in casinos are not restricted to the USA and Europe. The Venetian casino in Macau has cottoned on to the popularity of music and gambling. The venue has hosted Rhianna and Justin Bieber in its arena, which holds 15,000 people. These events are in part credited with making Macau an even more successful gambling destination than Las Vegas. The autonomous region off the south coast of China makes more gambling revenues than anywhere else in the world. Having the most populous countries on its doorstep is undoubtedly a benefit to this destination as well.