49 Burning Condors – 'Seventh Hymnal'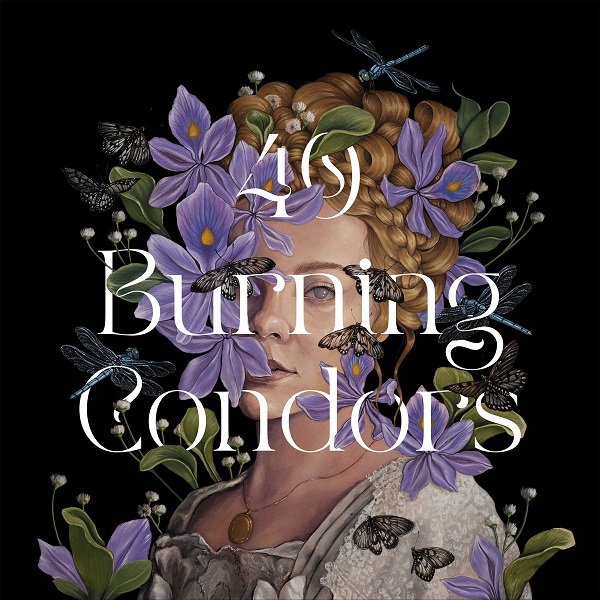 Philadelphia-based band 49 Burning Condors excel on their new album Seventh Hymnal, a showcase of their resonating "gothic witch rock" sound.
Written during the pandemic, the album shows moving stories of grief, loss, and temptation, described by the band as "not only an outpouring of all the things we wanted to say but couldn't express in regular words to those we loved and even to ourselves, but a benediction and examination of a woman's role of power in the world of men."
The opener "Bayou" emerges from the darkness amidst percussive stomps and twangy guitars, casting a ghostly spell into the haunting vocal emergence. The track traverses seamlessly into the enveloping string-fronted energy of "Little Death." A lonesome vocal beckoning corresponds intriguingly with the backing strings, falling thereafter into a bed of twangy guitars and heart-tugging string-based flourishes. The one-two punch presents a captivating start to this stellar album.
From there, Seventh Hymnal continues its strong hold. The tonally eclectic "Noonday" compels with its narrative focus and nocturnal guitar tones, escalating into a riveting collection of ardent vocals, strings, and guitar pulses. The closing title track serves as a stirring finale, with clanging piano-driven momentum and dramatic strings being wholly satiating. Seventh Hymnal wows with its dark, swampy fusing of rock and folk eleemnts.
Stream Seventh Hymnal:
—
"Bayou" and others featured this month can be streamed on the updating Obscure Sound's 'Best of October 2022' Spotify playlist.