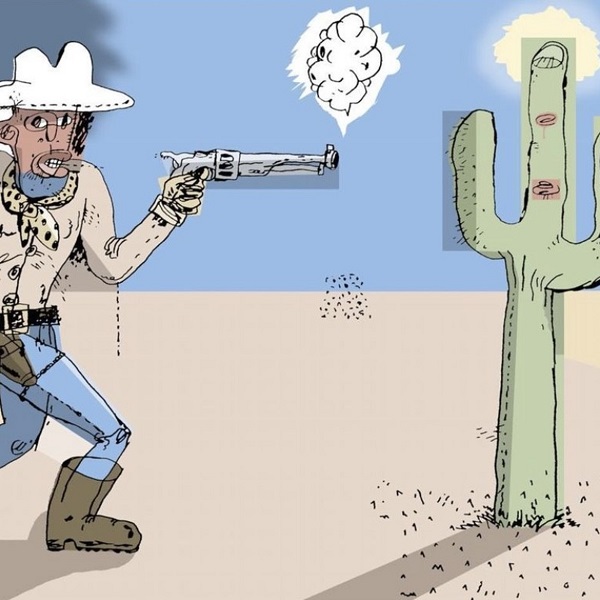 Strutting a passionate and heavy rock infection, "The Guy With A Black Eye" is a new single from Lucifers Beard, an artist based in Shrewsbury, UK. Citing dexterous guitar-driven acts like The Mars Volta and Ty Segall as inspiration, Lucifers Beard impresses with a sound that balances radio-ready immediacy with a heaviness that invigorates.
A clamoring rhythm section and snarling guitar twangs sing of a guy who "always gets the girl in the end." Someone full of attitude and personality, and not afraid to show off their black eye. The chorus exudes "I wanna be like the guy with a black eye," with a yearning conviction, rousing amidst the heavier guitar pulses and wordless vocal punctuation. "The Guy With A Black Eye" is a brief entry at just over two minutes, though it doesn't take long for its exciting fervency to take over and induce replays.
"The lyrics weave in and out of different perspectives of the guy with a black eye," Lucifers Beard says. "His parents, the people that encounter him and the repercussions of these various experiences."
Per the artist, the track was "inspired by a passerby in the street. A skateboard tucked under his arm, attitude for days and a big black eye." He elaborates further:
"I don't usually have a concept of a song before the music has been written. The music usually drives any narrative for me. So when I had this character in my head I just started aimlessly playing fast guitar chords and it all fell into place pretty quickly, I thought about trying to put a bridge in or other sections, but conceptually it just felt right to be a short aggressive and punchy song!"

"It reminded me a little bit of the band The Hives, so during the recording process, I really wanted some dirty guitar tones for aggression and energy. I ran the vocals in parallel to the original vocal takes, through a pre amp at max gain which sounded dirty and distorted but helped give the vocal recording some edge! Hopefully that worked! The intro and outro guitars, were an after thought in the arrangement process, to represent the spiraling and out of control nature of the the guy with a black eye. Thought it was a more fun and interesting way to start, too!"
—
This and other tracks featured this month can be streamed on the updating Obscure Sound's 'Best of October 2022' Spotify playlist.