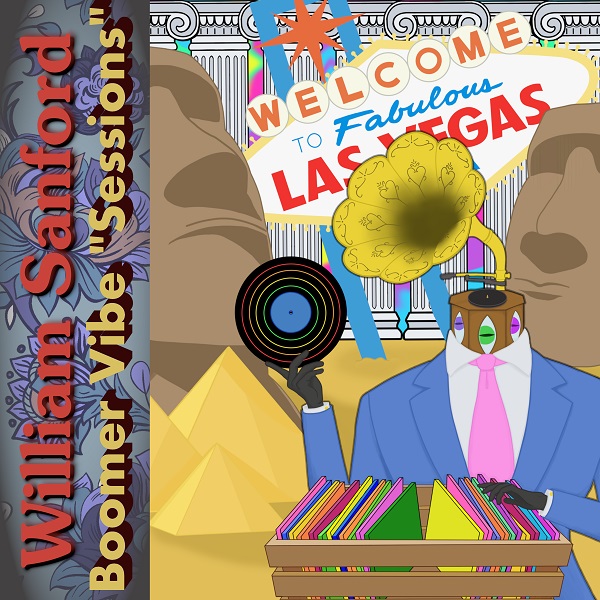 A colorful blast from the past, Boomer Vibe "Sessions" is a consuming new album from William Sanford. Hailing from the NW Indiana/ Chicago-land area, Sanford's inspirations are enjoyably vast — touching on everything from art-rock and prog to downtempo, IDM, and video game music. Per Sanford, Boomer Vibe "Sessions" plays as a "a re-imagining and celebration of psychedelia expressed in a plethora of musical forms."
Opener "Florals With Mr. Gramophone" presents a mellow intrigue, as bouncy keys and fuzzy bass lead a warmly hypnotic arrangement. Eerie clanking percussive effects add a sense of vigor, especially upon the more urgent synth-forward constructions in the final minute. The opener proves inviting, while still indicative of the creative pursuits yet to come.
With its lush voice sample frequencies and futuristic synth feeling, "Space Race" is fitting to its namesake. Caressing vocal fragments and spacey synth effervescence intermingle for gorgeous results, providing the ideal accompaniment to watching our planet slowly rotate with a comfortable predictability. "Chicago Memories on the L" is another highlight in a similarly atmospheric vein, channeling a sense of easy-going nostalgia with its glistening organ-led melody and soaring choral effects.
Experimental electronic pursuits provide for fascinating successes, ranging in overall tone. "Flapperjacks" feels constantly illuminated by the vibrant keys and saloon-ready energy, emitting a ghostly glow with backing vocal haunts. In the more spacious spectrum, "Pluto Will Always Be a Planet in a Boomer's Heart" recalls Oneohtrix Point Never in its plucky atmospherics and melodic vibrancy, further showcasing the release's captivating and inventive production.
Stream the album:
—
"Space Race" and other tracks featured this month can be streamed on the updating Obscure Sound's 'Best of October 2022' Spotify playlist.