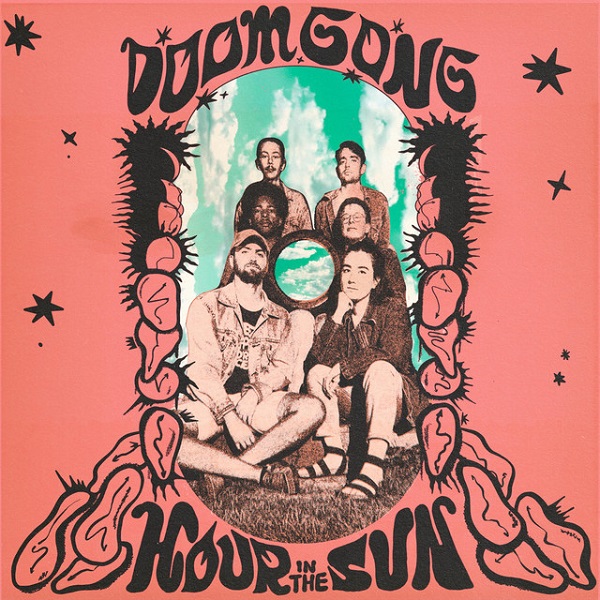 Transporting to a lush land with multi-colored skies, "Hour in the Sun" is a psychedelic success from DOOM GONG, a band from Louisville, Kentucky. The single is described by the band as "all about savoring an ephemeral moment, like the last few seconds of sunlight before the sun sets, or the last warm days of fall before it gets chilly."
The gently unfolding intro enchants with plucky guitars and a warming bass line. The frolicking guitars glide effortlessly into a playful key-laden reflection, with lush vocals emerging amidst a Bossa Nova glow. "Just you and I, in the sun," the vocals let out shortly thereafter, tempting with sunny skies and hazy escapades. This section reprises enjoyably following an eerie interlude, featuring a carnival-like ambience amidst bird-chirping. "Hour in the Sun" is a dynamic, melodic psychedelic adventure from DOOM GONG.
DOOM GONG elaborate further on the track:
"This song was a happy accident, and it almost wasn't even recorded. We had a little bit of time left after a long recording session at Thunder Sound in Franklin, KY in March of this year when we decided to work on an unfinished song idea based on a melody from the second movement of Tchaikovsky's 4th Symphony."

"We wanted to mix that melodic idea with a laid back, Astrud Gilberto vibe but couldn't seem to figure it out. We almost gave up on the song entirely until we had the idea to use a worn out vintage organ in the corner of the studio that sounded like a big band from the 1930's and it was just what the song needed. We hit record and captured "Hour in the Sun.""
—
This and other tracks featured this month can be streamed on the updating Obscure Sound's 'Best of December 2022' Spotify playlist.
The track is also featured in the genre-based, best-of Spotify compilation Emerging Indie Psychedelic.