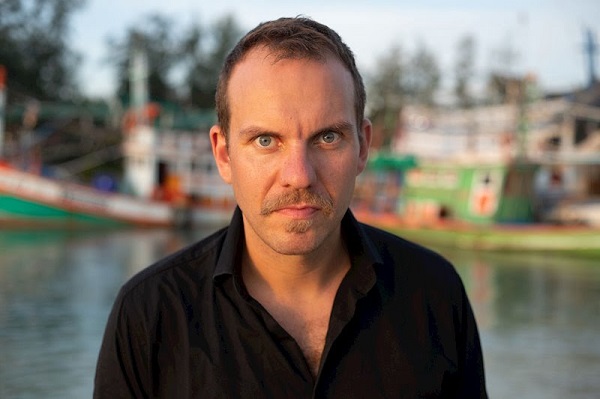 We sit down with Erik & The Worldly Savages, the project led by Erik Mut recently featured with the new EP 'Break Free!', celebrating personal freedom in a passionate folk/punk intertwining.
Your aptly titled new album Break Free! captures the importance of personal freedom, and avoiding becoming another cog in the machine. What inspired this thematic direction?
I was inspired by my own urge to leave Canada and ensure I would never have to work an office job again.  I worked a typical 9-5PM for the only time in my life for 8.5 months in London in 2012 and it shocked me how monotonous it was to have to show up in a building and work every day.  From this experience I wrote the songs "Sunshine" and "Glass Cage".  I knew I had to steer clear of that lifestyle.
Since leaving your Toronto-based home at the age of 25, you have been based in several places, like Belgrade and London. Erik & the Worldly Savages formed in 2008, in Belgrade. How did the project form?
I started writing the early Worldly Savages songs in my previous travels in Eastern Europe while I was backpacking around.  When I finally left Canada and settled down in Belgrade, I met a producer named Vladimir Krakov who started helping me find Serbian musicians and record my first demo and music video (Struggling for Character).  Then on a trip back to Canada I formed my first live act and began touring Europe with them.
Your company, Support Adventure, does great work in helping expats and digital nomads land remote jobs. Have you collaborated with any musicians via the platform as well?
A lot of us in the company also double as musicians and DJs, for example.  While recruiting it's a plus to hear that people have passions like that outside of work.  I like to start all of our staff meetings on Zoom by playing some world music track that I'm listening to get the energy up.
What's your favorite venue to perform at?
I would have to say KC Dunaj in Bratislava, Slovakia.  It's the country's largest cultural with a 500 person capacity and is right across the street from where my grandmother from there grew up and always has a great eclectic energy, with a room and a patio outside of the concert hall where it's great to take a breather and get to know the fans after the show while DJs spin the nights away in the concert hall. We've played there I think about 5 times.
Do you have a specific process or ritual when creating new music?
Not really. The melodies, words and feelings come to me at the most random moments, such as walking down the street or bicycle riding and I record rough voice recordings on my phone and listen to them back later.  If something catches me later, I then start demoing and structuring the song, filling out melodies, chords and lyrics.  It's about taking that raw moment of inspiration and letting the song grow into itself.
Any favorite artists or albums you're listening to at the moment?
I have been recently enamored with the Calypso genre in general.  It's a storytelling type of music from the Caribbean with a rich history.  Favorite artists include Lord Cobra and Duke of Iron.
If you could collaborate with any artist, alive or dead, who would it be?
I think Pat Thomas, the highlife artist from Ghana.  He's still going in his 70's and is an example of the type of musician I would like to be for decades to come.  I didn't know who he was when I saw him at a Womex showcase in Budapest in 2016 and the whole thing blew my mind like you can only dream music showcases can.
What do you find is the most satisfying part of being an artist?
Every time I make a magic moment with an audience, it's an almost tribal feeling and I get to be at the center, directing the energy.
What is the biggest challenge you find in today's music industry?
Music has become so fragmented and niche and there's no sure fire way to break through in the world of algorithms and playlists, so the trial and error can be a bit daunting.
What's upcoming for the project?
We'll release another EP in January called 'FUTURE THUNDER VOID' and spend the winter in Thailand on the island of Koh Phangan before touring Europe for Spring and Summer.