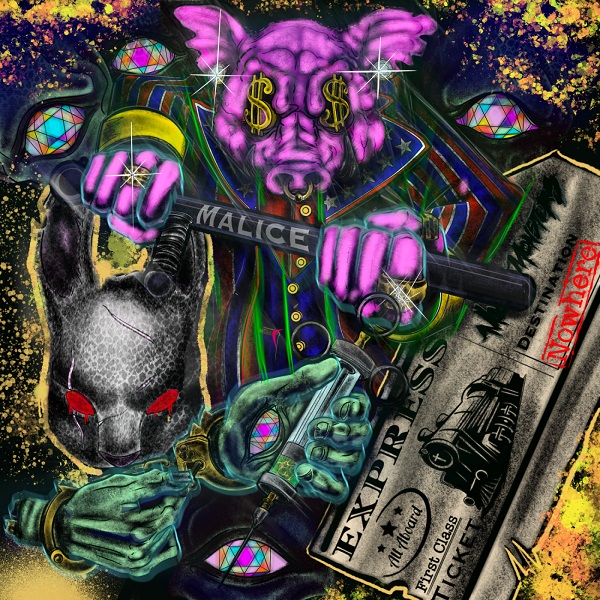 Hailing from the Bay Area, Modern Monsters' hard-rocking energy is enjoyably abundant throughout their Malice EP. The release serves as "an expression of disdain towards societal issues, unchecked power, two-part justice systems, distractions from introspection and perilous love," per the band.
Opener "March 3rd, '91" intrigues with its spoken-word vocal swell, raucously rising as distorted guitars invigorate. "You'll never see your family again," the vocals let out menacingly, with another soaring ascent enveloping thereafter. A dexterous guitar solo approaching the three-minute turn adds further ardency. Another anthemic vocal push concludes the track with satiating allure.
The peppier "Road to Nowhere" kickstarts with an electrified, dexterous guitar lead — matched by subsequent vocal excitement that escalates into a crunchy, exhilarating chorus. "Driving for miles on a road to nowhere," leads into another suave guitar emphasis, bridging the chorus and verse with cohesive charm. The bass-hopping sequence past the two-minute mark builds into a brightly charismatic guitar solo, again emphasizing the band's knack for catching structural turns with guitar-forward emphasis.
The closing "Greed Machine" channels an '80s rock embrace, with muscle-y guitars and impassioned vocals centering around an irresistible title-touting chorus. This is a fun, fantastic closer to an EP that wholly satisfies in its ardent, hook-forward heavy rock sound.
—
"Road to Nowhere" and other tracks featured this month can be streamed on the updating Obscure Sound's 'Best of March 2023' Spotify playlist.