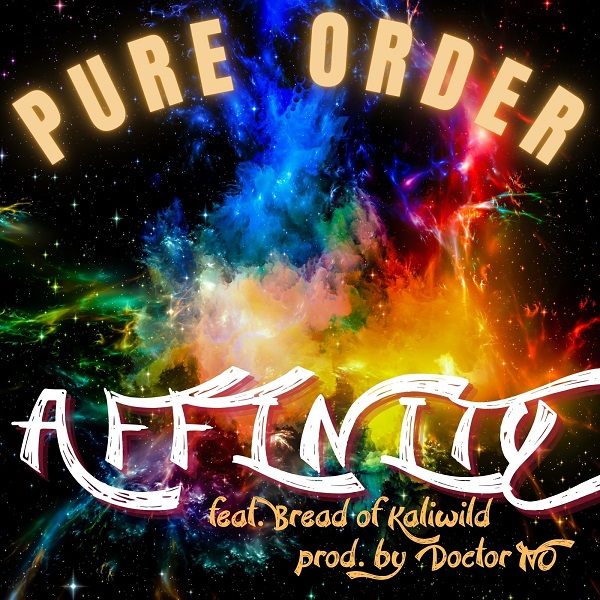 A mesmerizing hip-hop success from Pure Order, "Affinity" hypnotizes with its glistening keys and late-night brass additions. The California-based project, comprising rappers Nemesis and God's Gift, emphasizes a heady soundscape alongside hypnotic vocal precision. The track also features Bread of Kaliwild.
Free-flowing vocals and spacey resonance gives way to the "beats and poetry, I was already active," sequence, with a glistening key progression and brassy adornments flashing alongside the steady percussion. The "can you make me feel that?" refrain dazzles into the more ardent "visit you like Alcatraz," progression, with the seductive "yeah," gestures sending serious vibes. "Affinity" is a stylish hip-hop gem with enduring atmospheric appeal.
The band's statement about the track is below:
"Affinity is a sort of love song to hip hop and our worldwide hip hop family. It describes how creative elements are drawn together through powerful attraction to produce a colorful display of beauteous power that lasts indefinitely, such as that of a nebula created by the collision of the elements of a star during implosion. The beauty and longevity of a nebula being compared to our beloved Hip Hop is welcomed as we commemorate 50 years of this powerful cultural movement. Affinity also describes how God's Gift and Nemesis relate to each other artistically-as energies different in nature, bound in common values, & creatively powerful together. Along with featured comrade Bread of Kaliwild, we hope Affinity showcases the pleasure and ease of hip hop creativity when those who come together to create it do so in true love & respect for the culture and for each other."
—
This and other tracks featured this month can be streamed on the updating Obscure Sound's 'Best of March 2023' Spotify playlist.