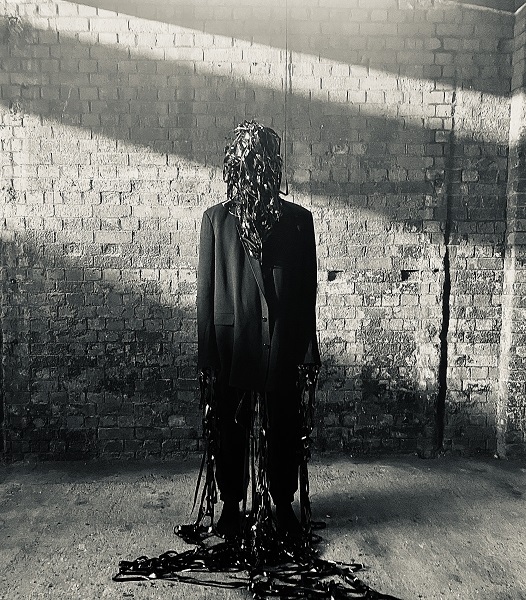 "Doldrums" is the riveting debut single from London-based artist Silverhours, conjuring an alt-pop sound that intrigues with its hypnotic electronic and rock/pop intertwining. The track represents the first single from Silverhours' debut LP, Madeleine Moment, releasing on June 9th.
Written during the pandemic lockdown, the artist describes the track as "my anthem for surviving the days of uncertainty, loss and struggle. It is a sad song, but this sorrow also brings you joy and hope."
The aesthetic throughout "Doldrums" compels with an assortment of twangy emotive guitars, acoustical underlying, and electro-minded percussion. The glitchy drums converge with impassioned vocals and guitars for a stirring effect, reminding of a darker The Notwist. "What can I do," the vocals let out during a more vibrant, acoustic-laden section, with the resonating "put my weapons down," culmination sending chills.
Approaching the two-minute turn, the track mesmerizes with its cohesive evolution from sparser folk-minded intimacy into the eerie electronic pulses and jangly guitar dramatics, with the engrossing 02:12 shift reminding fondly of Radiohead. "The sun still rises," kickstarts a powerful rock-friendly sequence, with rousing guitars and multi-layered vocals guiding into a satiating conclusion that drives steadily toward lusher electro-folk contemplation.
This textural, melodic track has me firmly anticipating Madeleine Moment, which sports a very talented team of collaborators — with mixing by Shuta Shinoda (Hot Chip, Alexis Taylor, Joe Goddard), mastering by John Davis (Gorillaz, The Killers, Nick Cave and the Bad Seeds).
I'm also anticipating the upcoming cinematic video for "Silverhours," which takes inspiration from Pina Bausch, a German dancer and choreographer. The video, directed by Craig McLaughlin, will explore "the concept of involuntary memory and how senses such as smell and touch can trigger a past experience." The dance duo James Pett and Travis Clausen-Knight star.
—
This and other tracks featured this month can be streamed on the updating Obscure Sound's 'Best of April 2023' Spotify playlist.