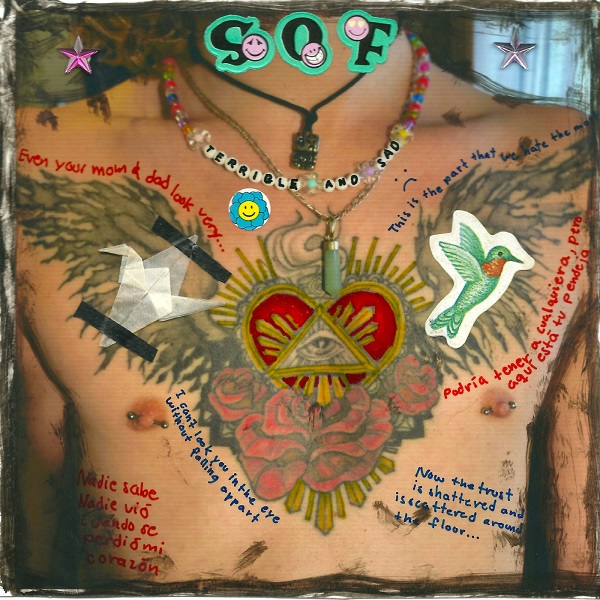 "Terrible and Sad is a compilation of three songs talking about terrible and sad events," Berlin-based band Skin On Flesh explain. The EP presents an angsty, impassioned rock sound with climactic developments. The tracks span from depicting "a terrible scene inside a relationship," to "how sad it is to fall out of love," aesthetically taking inspiration from "mid 2000s emo punk rock with a mix of Spanish and English lyrics."
The title track exudes charisma and angst, repeating its namesake alongside sludgy guitar vigor. There's an unbridled sense of rage apparent, which guides aptly into the next track's opening lyrics: "Don't tell me about your pain, 'cause I'm only feeling mine."
The rousing "I can't look you in the eye," escalation resonates with the pulsating guitar-based energy and mirrored vocal layering. "Aqui Esta Tu Pendeja" certainly compels in its angst just as the title track does, though with added structural dynamics and tonal variety that consumes even further.
A rousing finale, "Se Perdio Mi Corazon (This Is The Part That We Hate The Most)" enamors in its bilingual vocal fierceness. Steady percussion and sporadic guitar buzzing complements the vibrant vocal leads, exceling into a foot-stepping ambience prior to an erupting alt-rock blast. The anthemic vocal work here fully invigorates, capping off an impressive EP with ample rock spirit and angst.
—
"Terrible and Sad" and other tracks featured this month can be streamed on the updating Obscure Sound's 'Best of May 2023' Spotify playlist.