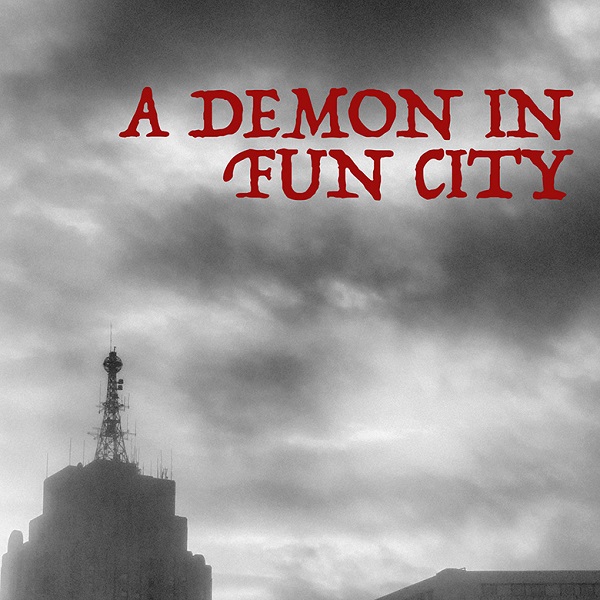 Collaborative project A Demon In Fun City stopped us in our tracks with the eerily enveloping "Badlands Neurology," full of cinematic atmospheric spaciousness. Now, their self-titled album continues the memorable production showcased there, ranging from that track's creeping intrigue to the serene "The Green Room."
"Welcome To Fun City" introduces listeners to the spaciously affecting soundscapes ahead. Whirring ruminations guide into sullen piano tones fit for late-night lounging, bolstered by a jazzy upright bass feeling. Enigmatic percussive suaveness enters gracefully in the second half, as does a brightly illuminated organ. These instruments converge with delicate precision, crafting a haunting success.
The atmospheric engrossment doesn't let go from there. The wailing brass and ensuing sound effect — resembling a plane crashing — on "Badlands Neurology" evolve into a buzzing bass-y resonance, while the subsequent "Girl With The Graveyard Eyes" conjures a chilly horror-film feeling with the darkly industrial textures and foreboding strings.
Moving further, the quaint elegance of "The Green Room" enamors in its gentle effervescence, providing a gentle reprieve from darker intimidation. Closing with the lurching, unsettling "Crash," A Demon In Fun City stands definitively as an album full of intrigue and commanding soundscapes.
—
"Friends In The Woods" and other tracks featured this month can be streamed on the updating Obscure Sound's 'Best of June 2023' Spotify playlist.
We discovered this release via MusoSoup, as part of the artist's promotional campaign.