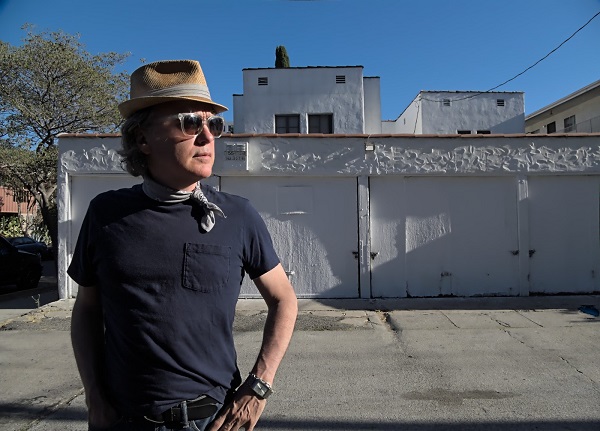 Your latest EP, Hotel In The Sky, is full of quality, timeless-sounding songwriting. I'm reminded at points of Lennon, McCartney, and Paul Weller. Was there a particular predominant inspiration for the sound on this, or was it more a fusing of many influences?
Ah, thanks!  I love all those artists. I just wanted to make an electric guitar based record, that was it, really.  A lot of piano crept into a few of the songs, but there's electric guitar all over it.  I spend so much time playing acoustically live at my gigs, and it's a real discipline because you can't fudge anything on acoustic.  You have to be completely honest.  As for electric guitar, they're so much easier to play and you have all this sustain and distortion to work with to morph the sound so you can get mileage sonically without having to do all the work that you would on an acoustic guitar.  I wrote the record pretty fast, on electric guitar and piano, and each song kind of had it's own debt to different artists, and once they were underway and I was able to reflect a bit and go like, oh, Hotel In The Sky sounds a bit Leon Russell to me now, though that's not what I was thinking when I started it.  I was just trying to write something that interested me enough to finish it.  As always, that's my M.O.  
You formerly were a busker in London and Paris. Do you have a preference between busking and playing in venues?
I definitely prefer playing venues!  I'm really a mic singer and I love playing to a room that's constant and you can gauge the mood of the place for the duration.  But I'm deeply indebted to what busking taught me and how it improved my discipline and courage and really pushed me along as far as singing goes.  I only made pennies (or pence and pounds and liras and francs, etc) but enough to sustain me day-to-day, but it was priceless to my education and growth as a singer and a guitar player, really getting maximum percussiveness out of your guitar when need be, because I was almost always "solo/acoustic", no drummer or percussionist to help out on the rhythm section.
You were born in Texas and are now based in Los Angeles — also having spent time in London and Paris. Is there a particular place that has inspired your work as an artist the most?
Lately France and England, but I've written about all these places.  And they all continue to inspire.  Basically  anywhere I've lived, for good or bad.  And even some places I've never been.  Like the Hotel In The Sky.
What's your favorite venue to perform at?
Cavern Club in Liverpool for obvious reasons.  Locally, Lost Chord Guitars in Solvang because it's run by musicians and has an amazing sound setup and they really dial you in.  Most of my gigging is me solo with my own PA, so it's a real pleasure to have someone working the board who's listening and cares and you can switch instruments and have guests and it all is dialed on the fly seamlessly.
Do you have a specific process or ritual when creating new music?
I just try and write everyday.  Well, most days anyway.  Mornings are best, before any screens or internet or email or TVs.  I have journals of lyrics and text files also.  And I have audio of melodies, chords, riffs, etc as well.  Sometimes you get an idea with the music and words at the same time.  But more often I'm writing the words first and adding the music later.  But it can be the other way around.  Whatever works and is flowing.  Trust the muse.
Any favorite artists or albums you're listening to at the moment?
Yeah, I'm digging a French pop duo called Papooz.  Kind of a French Yacht Rock, as I've heard them described.  Some cool sophisticated moves and very catchy stuff.  Esp digging their songs "Forget About Felix" and "Theatrical State Of Mind".  But there's tons more.  And I do most of my listening and discovering either on YouTube or Fip (French radio) and so on YouTube I came across a solo artist called Skinshape and I'm a big fan of his moody, retro pop tracks.  Also, Conan Gentil's "Lockness" really knocked me out.  As for older stuff, Elliott Smith has loomed large esp "Son of Sam" and so much more, as usual.  And also JJ Cale.  I'm pretty obsessed with the 3 song sequence of "If You're Ever In Oklahoma", "Ridin' Home", "Going Down" from his Really album.   The Redwalls with possibly the best ZZ Top cover ever in "Balinese" and their very own "Hung Up On The Way I'm Feeling" and "Universal Blues".  Jane Birkin's "Di Doo Dah" is early 70s pop perfection.  Love Brisa Roche's Window Gun and my boys back in Texas, the Rite-Flyers fantastic new single "Flutterbye".
If you could collaborate with any artist, alive or dead, who would it be?
My song "Ghost of You" with Dwight Yoakum or Clint Black. My song "Blue" with Norah Jones or Madeleine Peyroux.  My song "Strangers When We Meet" with Keren Ann or Feist.  Dead it would be Johnny Cash.  I wrote a song for him called "Anthrax Blues" when he was making the American Records Volumes with Rick Rubin, solo acoustic a lot of it.  I saw Rick Rubin at a record store and ran back to my car to get a copy of my song to give to him, but he was gone when got back a few minutes later.  They were probably recording just a mile away up in the Hollywood Hills.  I would've been a long shot but still wanted him to maybe get a chance to hear it.
What do you find is the most satisfying part of being an artist?
That music is its own reward and it's endlessly revealing, so you're always learning.  Plus creating is good therapy.
What is the biggest challenge you find in today's music industry?
Doing interviews. HA. The biggest challenge in today's music industry is just trying to be successful outside of it.
What's upcoming for the project?
Possible vinyl release plus remixes and lo-fi versions.