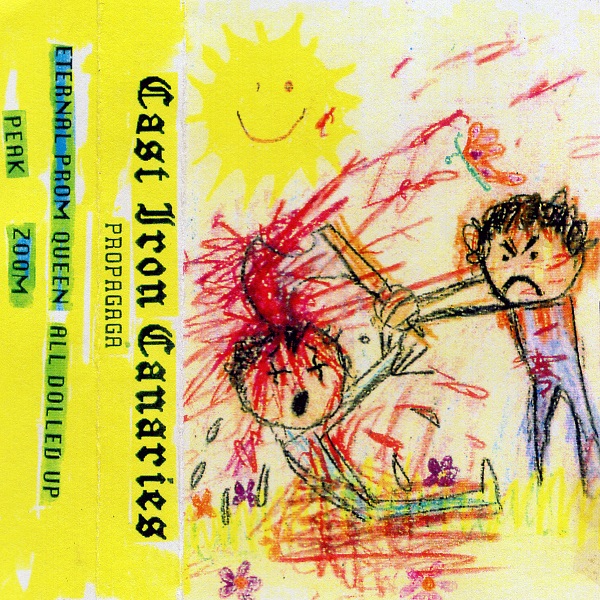 The Cast-Iron Canaries unveil a thrilling rock sound throughout their Propagaga EP. 2023 marks the release's 30-year anniversary, with its reissue released earlier this month. The EP was unearthed by engineer/producer Jonathan Burnside. A gripping rock expressiveness shows throughout from the San Francisco-based act, whose sound resembles the likes of The Fall and Manic Street Preachers.
The striking opener "Eternal Prom Queen" resembles early Manic Street Preachers in its ferocious rock energy and dark vigor, particularly in the quivering, powerful vocal ardency. The free-flowing guitar solo into the "every night," refrain plays with gripping charisma, putting a bow on this beautifully heavy-stomping opener. The talking Barbie sample at the track's conclusion adds a stellar creepiness to the whole thing.
A swampier rock exterior stirs on "All Dolled Up." Frenetic, bluesy riffs and impassioned vocal howls mix with a glam-friendly vocal composure, showing dynamic appeal between debonair verses and expressive howls, like just prior to the two-minute turn. The track is wholly indicative of the band's enthusiastic, charged-up energy.
The EP's second half struts a vintage-minded rock sound as "Peak" kicks into gear. A more subdued, harmonious vocal delivery meshes well with a bouncy bass line and twangy guitar expressions; the free-flowing energy and amiable sound stretches into an elongated, psych-friendly second half, adding enjoyably tonal variety prior to a punk-minded ferocity that envelops into the effort's conclusion. "Zoom" caps the EP off with continued hard-rocking energy. Propagaga is a thrilling rock throwback from the talented The Cast-Iron Canaries.