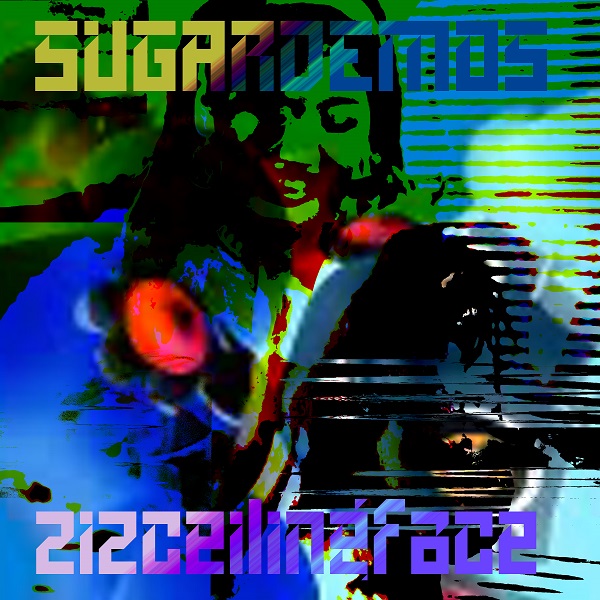 An experimental, atmospheric hip-hop sound excels throughout SUGARDEMOS, the striking new album from 212ceilingface, the work of Chicago-based artist and producer Miles Erickson. A production that balances melodic immediacy and inventive textural spells captivates alongside densely affecting lyrics, exploring personal growth, friendships, and ego with tactful precision. From the spacey chills of "NO RUSH" to the heavy rhythmic pushes of "ZION," SUGARDEMOS thoroughly succeeds.
Opener "River" unfolds steadily amidst textural buzzing and nonchalant vocals, exuding aspirations to "fit in," as flourishing key additions intrigue. An uptick in vocal intensity proves captivating thereafter, evolving seamlessly from subdued hypnotics into a vigor-friendly intensity; the eclectic vocal tones remind stirringly of JPEGMAFIA's dynamic hip-hop experimentation, particularly upon the "put him in the grave!" intensity.
"ZION" furthers the album's knack for climactic unfolding, driving into an infectious rhythmic enhancement and "that's my," vocal affirmation. The preceding "SORRY…" succeeds with a more emotive pull, asking "is that what I'm supposed to say?" following an apologetic opening. Lyrics stir in pondering a feeling of an emotional void relative to peers, as thumping bass and ceaseless textural bolstering enamoring alongside the weary-sounding vocal emphasis.
The production is consistently striking throughout SUGARDEMOS, and "CHINA WHITE" is among the numerous standouts in that regard. An eerie vocal sample and a murky, industrial-fit soundscape combine for a riveting build-up; the sporadic percussion and translucent soundscape complement an eventual laid-back vocal lead, reminding of Kendrick Lamar circa Section.80. The lyrics thoroughly captivate in describing an intimidatingly experienced individual, one that "could tell an undercover cop fresh out the piggie bar," and "turn out them lil girls you try to flex for."
"NO RUSH" features a spacey, synth-forward beat that provides a more accessible immersion to the gritty "CHINA WHITE." A melodic vocal lead complements the bright synth tones with replay-inducing appeal, alongside memorable lyrical commentary on fading friendships, religion's use as an antidote to complacency, and the metaphorical role of hospital beds' safety. SUGARDEMOS has a tendency to integrate densely impactful lyrics amidst enjoyably thought-provoking production, ranging from intense rhythmic propulsions to delicate, spacey unfolding, epitomized by "NO RUSH" and especially its atmospheric conclusion. SUGARDEMOS is a standout showing from 212ceilingface.