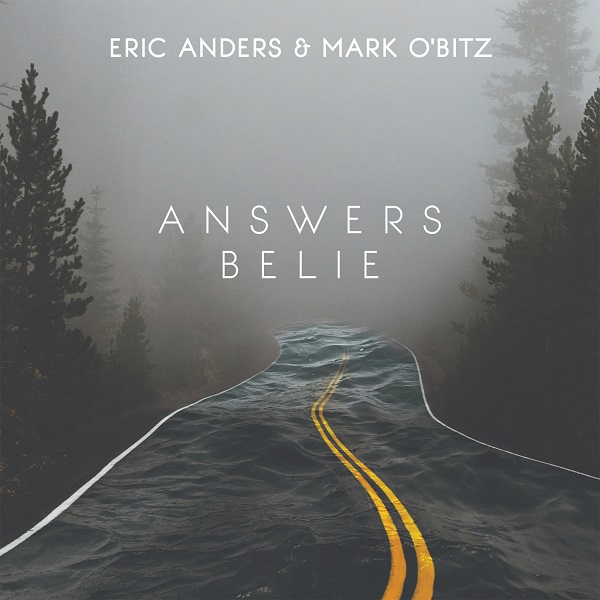 Their 8th full-length, Answers Belie is another collaborative success from Bay Area duo Eric Anders and Mark O'Bitz, whose musical partnership has impressed in the past with albums like last year's The Loss We've Won. Answers Belie continues their knack for truth-seeking introspection and poignant, moving themes set amidst a folk/Americana styling.
"Force of Old" is representative of the album's powerful sound. Twangy guitars and understated acoustic shimmers craft a sunset-friendly Americana appeal, traversing to a lusher folk territory as the resonating vocals emerge. A subtle organ infusion helps drive into the rousing "way down," hook, propelled by haunting wordless backing vocals, a heavier organ wavering, and delectable guitar twangs. The build-up here is fantastic, reminding fondly of Neil Young.
"Too many lessons to work through," a weary vocal presence sings on "The Hardest Lesson," another heartrending highlight. Soothing backing vocals again add a compelling melodic touch. The role of life experience is highlighted here with impactful results, specifically exploring the impact and repetition of dysfunctional relationships. The "over and over," concluding haunts reinforce the latter component with heart-tugging qualities.
Described by Anders as "a dirge for American democracy," the opening "A Slow Movin' Nightmare" is more direct in its specific themes. A forlorn vocal feeling ponders on the roles of future generations, confronted with the "slow movin' nightmare," that appears intent on stripping democracy and safety. Hazy guitar work adds beautifully throughout.
—
"Force of Old" and other tracks featured this month can be streamed on the updating Obscure Sound's 'Best of August 2023' Spotify playlist.