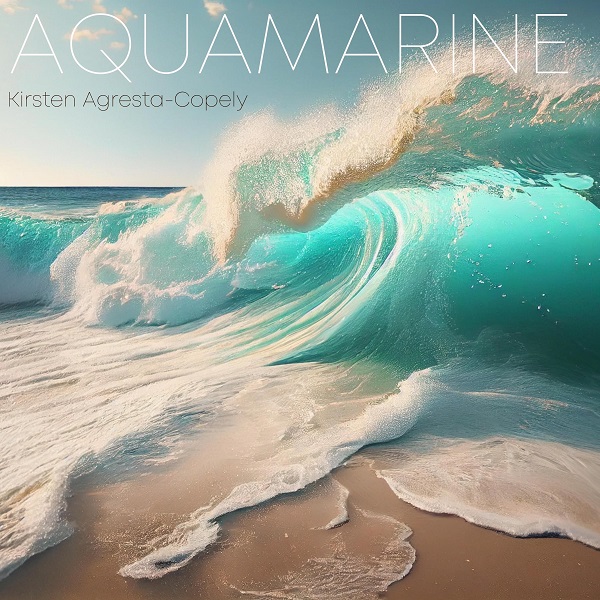 Brooklyn-based harpist and composer Kirsten Agresta-Copely crafts a beautiful sound on her new album Aquamarine, her second New Age album following 2020's Around the Sun. The release is an homage to the artist's mother (1936-2023), who had an unmistakable influence on Agresta-Copely with her love and support for music and beyond.
"It was healing for me to record the compositions that were created throughout my mother's prolonged decline and transition," Agresta-Copely says. "I consider myself fortunate to have the ability to create within a secure and safe space, where I can breathe new life into melodies that bring solace to my spirit. My hope is for listeners to experience the therapeutic power inherent in both music and the ocean."
The album's opening title track caresses with glistening harps and a gentle backing textural resonance; it's a comfortably enticing introduction to an album full of gorgeous moments. The subsequent "I Am Water" exudes a graceful, trickling effect with fluttering arpeggios. The aquatic soundscape is further conveyed on "Deep Blue World," with a more patient precision. Halted harps create momentum in their spacious in-betweens and intense pulses, like at the one-minute mark and the sparse twang following thereafter.
"Into The Mist" serves as the rousing finale, a chamber work that incorporates heart-tugging strings amidst Agresta-Copely's compelling harp work. Cellist Dave Eggar and violinist Maggie Gould Wilson add their talents to the album's illustrious soundscapes, thoroughly moving in their memorial aspect and thematically apt free-flowing gorgeousness.
—
The title track and other tracks featured this month can be streamed on the updating Obscure Sound's 'Best of August 2023' Spotify playlist.
We discovered this release via MusoSoup, as part of the artist's promotional campaign.