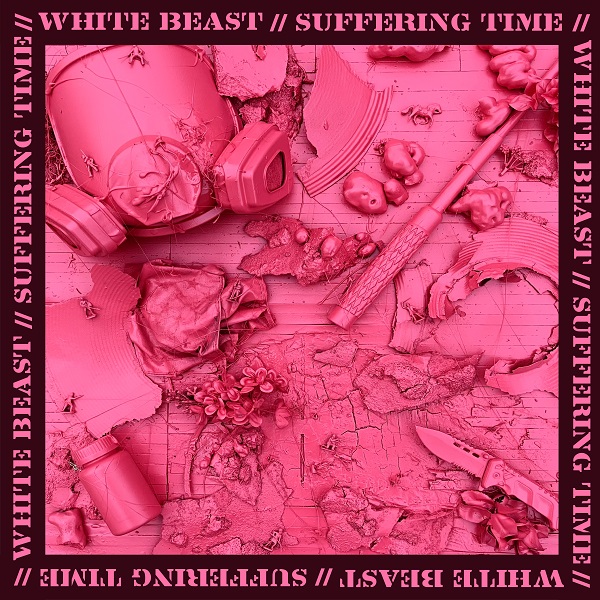 Balancing raucous invigoration and melodic hooks, Suffering Time is an enthralling new album from White Beast. Comprising the duo of Jeffrey Rettberg and Sam Roberts, the project formed in Richmond, Virginia, when the two met through mutual friends within the film industry (Rettberg is also a filmmaker).
The album was written throughout 2020. At the time, Rettberg was going through a separation and moving back and forth between Baltimore and Richmond. He participated in protests throughout this period as well, contributing to a thematic focus throughout the album of witnessing a crumbling democracy amidst conscious socio-political concerns. There's a personal perspective of self-examination in addition, lending to an album with resonating, sincere lyrical sentiments and themes.
Tumult was also apparent throughout the recording process; Roberts broke both his knees, and Rettberg was "effectively homeless writing the songs." Nonetheless, White Beast emerge with a resounding success in Suffering Time. "The Richest Land on Earth" is exemplary of the album's powerful builds, rousing from suffocating lyrical depictions and understated guitars into an anthemic, distortion-heavy pulsation. Blasts of fuzzy guitars mingle cohesively with sparser, contemplative segments.
From ceaseless fuzzed-up rockers like "Branded" to the post-punk darkness of "Lifetime 2020" and the delicate ambient musings of "Goodbye," Suffering Time is a captivating display from White Beast.
—
"Branded" and other tracks featured this month can be streamed on the updating Obscure Sound's 'Best of August 2023' Spotify playlist.
We discovered this release via MusoSoup, as part of the artist's promotional campaign.