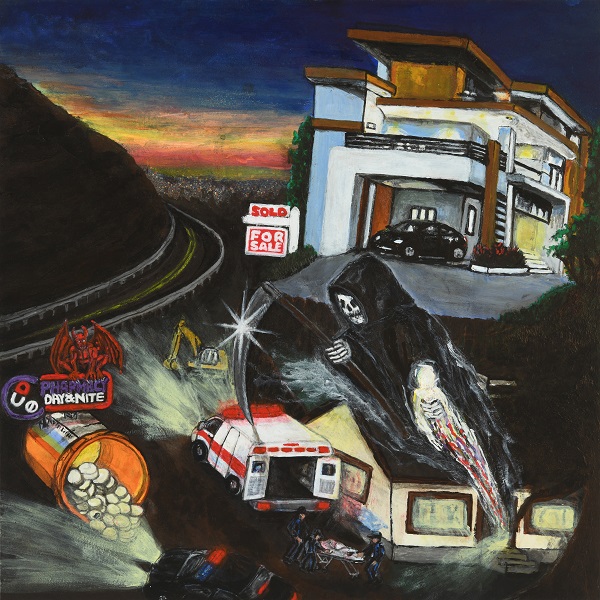 A heavy, heartfelt rock sound compels throughout hidden in plain sight, the new album from Boise, Idaho-based band Chief Broom. The album's completion came following the death of band co-founder TJ Tuck, who had a strong impact on the Boise music scene and his family/friends alike. TJ's drumming and artistic vision remains a force on this standout album from the band, led by his brother, multi-instrumentalist Shadrach Tuck, alongside a cast of talented collaborators. The experience lends to a genuine thematic emphasis on coping with change, coping with trauma, and accepting oneself through it all.
Intriguing initially with audio samples reminiscent of childhood, the opening "snuff (prologue)" evolves gradually into guitar-fronted captivation, unleashing a swell of distorted guitars that play with sporadic enticement. The momentum builds into a satiating vocal reveal in the second half, exuding a dreamy haze alongside lush acoustical backing. A soaring electric guitar presence persists in enjoyable form, adding to the eclectic, emotive mix. The backing textural illumination, vocal nonchalance, and smatterings of guitar intrigue into the concluding bursts.
The ensuing "hidden in plain sight (walked away)" strikes with greater immediacy. A whirring, distorted underlying drives into a contemplative vocal introspection, rousing into a replay-inducing "change," chorus. The "I'll change," refrain into the "walk away," heaviness proves invigorating in its melodically rewarding build-up — also captivating in its thematic emphasis on self-acceptance, which can be particularly trying in the wake of conflict and addiction. The verses' post-punk moodiness evolves seamlessly into the powerful, cathartic pushes.
"I don't feel at home," the vocals let out on the next track, "DFAH," furthering the themes of coming to grips with change. A momentum-filled guitar sequence enamors past the three-minute mark, as trickling keys add to the heady soundscape. The hypnotic yet heavy guitar lines combine with feverish vocal passion for a nostalgic rock sound, exuding a '90s spirit in the vein of The Wrens; the combination of excitable piano and droning guitar textures make for a thoroughly resonating success, centered around its riveting title-touting refrain.
Chief Broom reveals an impressively eclectic sound within "suspended in air (interlude)," lending a haunting neo-classical quality amidst stirring piano playing and ghostly strings. The effort makes for a meditative break within an album full of ardent rock successes, captivating with its lush soundscape and fulfilling mid-point sequential role.
"saved (?)" furthers that stylistic variety, propelled by spacious organs and evolving into a psych-friendly soundscape with brooding vocal commiserations. "He went out in the setting sun," they let out into slabs of distorted guitar, also yearning with a hope for re-uniting someday. It's another standout on a powerful album, whose emotive rock sound resonates alongside poignant themes of self-acceptance and navigating rapid changes in one's surroundings and relationships.