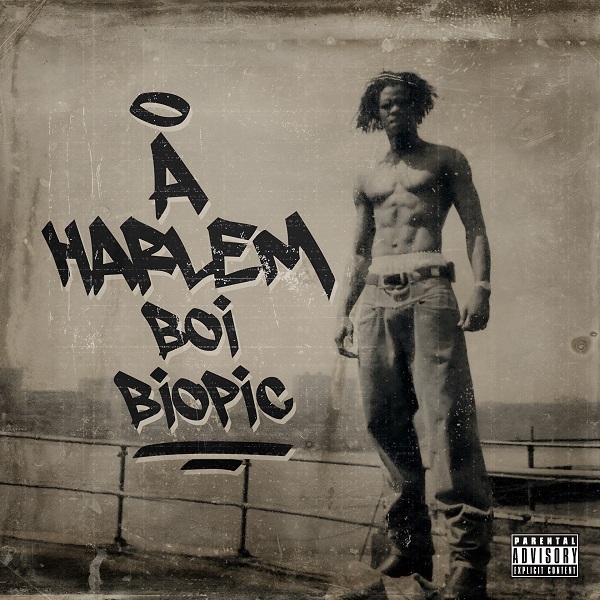 A Harlem Boi Biopic is an enthralling new album from Mustafa Shakir, a musician and actor also known for his television roles in The Deuce, Marvel's Luke Cage, and Cowboy Bebop. The follow-up to 2019's Masterpeace Theater, A Harlem Boi Biopic meshes '90s nostalgia — reflecting on the Harlem summers Shakir experienced as a youth — alongside gripping self-reflection and societal commentary. The production is aptly cinematic, weaving sample-based impact within the melodic production from Goldfingz.
"The Uptown 1" is continuously captivating in its moody orchestration and intense vocal drive. A sample from The Education of Sonny Carson furthers the no-nonsense demeanor of the streets, where courage is a necessity. A brassy envelopment drives into another sample, noting "that whole generation has been lost to the prison system." Shakir's vocal flow plays effortlessly amidst these cinematic sources and intriguing orchestration.
Following that up with a more lighthearted, soulful glistening, "Memba" stands out with its effervescent piano-driven beat and nostalgic lyrical intent, recollecting past-time block parties with Salt-N-Pepa on blast. "I love how we dance in the rain," the vocals let out with relaxed reminiscing. "We departed boyhood on that Saturday," the vocals remark, emphasizing the shift into adulthood and all the responsibilities that follow. "I remember the dog days in the hood," they conclude, noting "speakers in the park," amidst the warming brass. "Memba" is a gorgeous throwback success for a summer's distant past, lyrically and musically.
Exemplary of its cinematic-like engrossment, A Harlem Boi Biopic is embracing of melodic and structural shifts — making for a riveting, ever-changing flair. "Sick" is another showcase in this eclectic regard. The verses cast a mysterious glow with a Goldeneye-esque debonair twang, evolving into a chorus with a more expressive charisma via the vintage strings and vocal sample infusion. The production of Goldfingz excels throughout, evident on intense cuts like "Sick" and on more laid-back shining like "Memba" alike.
An album centerpiece further elevated by the additions of legendary singer/songwriter India Arie, "His Eyes" captivates with its masterful blend of soulful pop and intense hip-hop. India Arie's hypnotic vocals often find accompaniment in riveting string arrangements, guiding cohesively into consuming lyrical commentary and flow from Shakir. India Arie's vocals reflect on the communal impact of "singing the same song," of pain and struggle — emphasizing the importance of staying strong, with Shakir's verses proving consistently thematic. "His Eyes" fuses soul and hip-hop with unforgettable results.
The closing one-two punch of the Miami-bound party set "MIA" and the poignant title-touting refrain of "Hang On" continues to emphasize the album's eclectic production, ranging from more laid-back contemplation to resounding commentary of life's struggles and personal inner-reflection. Mustafa Shakir has crafted one of the year's most memorable hip-hop albums with A Harlem Boi Biopic.