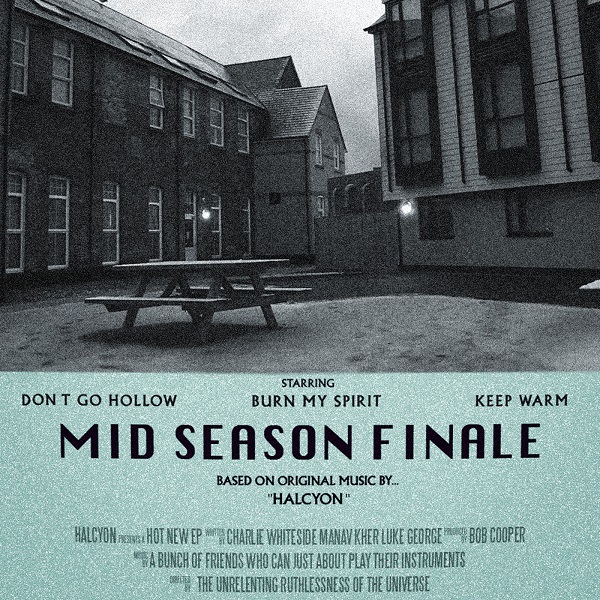 London-based trio HALCYON reveal a moody rock appeal throughout their new EP, Mid Season Finale. They team up with producer/engineer Bob Cooper on the release, which follows up their pandemic EP Nightwalks. In the three years since, the band has focused on their own lives and mental health, contributing to an introspective thematic hold throughout this compelling EP.
Opener "Don't Go Hollow" begins with a sludgy bass crawl and vocals reflecting on receding memories and "an ocean of fear floods in," capturing the anxieties apparent throughout previous years of tumult. "Don't go hollow," ghostly vocals let out, traversing into a peppier rock vibrancy that hooks. The track showcases the band's eclectic tonal range, driving from bass-heavy contemplation into melodic guitar briskness.
Twangy guitars and hushed vocals send chills on "Burn My Spirit," echoing themes of collapse with a sense of contemplative eeriness. The "when you lost your grip," escalation is wholly stirring, feeling representative of being over-encumbered with isolation. Stomping guitars and panting percussion assemble a hard-rock vigor thereafter. Closer "Keep Warm" continues the strong display, casting a more spacious soundscape into the warming, distortion-heavy emotion of the second half — "have to find some other way out." Mid Season Finale is an affecting rock success from HALCYON.
—
"Don't Go Hollow" and other tracks featured this month can be streamed on the updating Obscure Sound's 'Best of October 2023' Spotify playlist.
We discovered this release via MusoSoup, as part of the artist's promotional campaign.