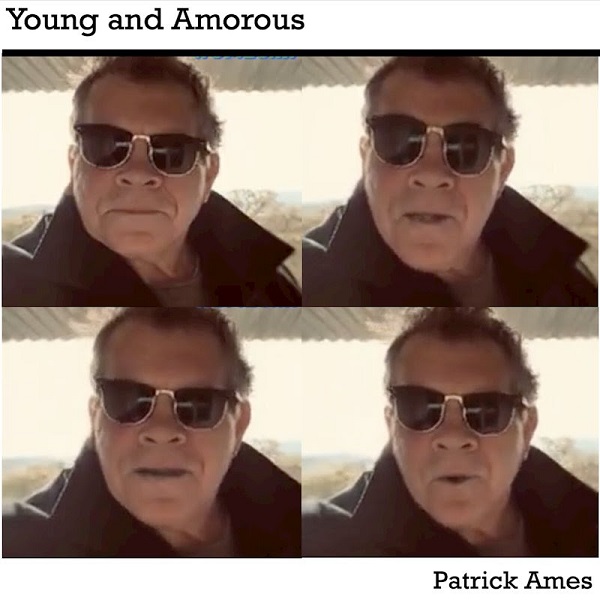 Singer/songwriter Patrick Ames shows well on two single releases this week, impressing with the grooving soulfulness of "Young and Amorous" and the introspective folk within "I Was Thinking." The versatile Ames continues to showcase his eclectic reach, offering distinctively separate styles within a somewhat unified lyrical concept, looking forward to the future. "Young and Amorous" muses on the journey of growing older, while "I Was Thinking" contemplates the impact of climate change. The 69-year-old singer/songwriter continues to excel.
"Young and Amorous" exudes a bluesy, funk-friendly enamoring; its appeal is furthered by the vocals of Mikaela Matthews, whose backing layering makes for a stellar accompaniment. "Fantasies spill out like a waterfall," Ames sings, with the "let's pretend," refrain complemented by a synth-touched immersion, conveying the escapism and aspirations alike as one grows in age. The track's forever-young ethos proves stirring in the lively aesthetical fitting.
Meanwhile, "I Was Thinking" succeeds in its sparser folk styling, serving as a criticism of society's delayed reactions to the evident dangers of climate change. Jon Ireson's hypnotic bass lines and Ames' stream-of-conscious vocal feeling combine for a poignant, moving success. These two tracks continue to showcase Ames' compelling songwriting and knack for timely lyrical introspection.
Check out our past interviews with Patrick Ames — here and here.
—
These and other tracks featured this month can be streamed on the updating Obscure Sound's 'Best of October 2023' Spotify playlist.